Camps, Summer School and Clinic dates are listed below.  More info on Clinics will be posted shortly.....
Stampeders Camp              July 6-10, 2020
Summer School July 13-17
RoughRider Camp               July 20-24, 2020
See more info below......
During the last week of July & the month of August there will be privately arranged Lesson Sets available. Please inquire.
Show Basics Clinic     August 4-7, 2020
Show Prep Aug. 10, 12, 14
Show Ready Aug. 17 & 19
P'n'F Horse Show     August 22 & 23
Maybe we can catch our breath before the Fall Series of Lessons starts September 1, 2020
RoughRider Camp will be different this year due to COVID!  Not only must we stay home if we do not feel well, social distance, disinfect and not touch our faces, our Campers will have teachers from different parts of the world!! Coach Kelly will be joined by some young horsepeople  from Germany, Britain, Switzerland and Ontario. The format of theory and riding will continue as in other years.  Coach Kelly will be the riding coach and her helpers will deliver the theory portions.
Campers must be a minimum of 8 years of age and be independent enough to be responsible for their lunches, sunscreen, clothes, etc.  Campers will bring their own lunches and eat at socially distanced tables, outdoors.  Previous riding experience is necessary and although basic skills will be reviewed, the emphasis is on expanding the riders' skill sets.
½ Day devoted to Roko & Blanco, the newest members of our teaching team, 2 days English riding with Dressage and Hunter focus, 2 days Western riding with Working Equitation and Trail Riding focus, ½ day preparation for our Play Day.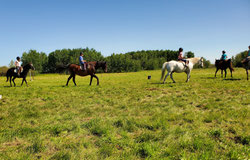 Optional Invitational Play Day on Saturday, July 25 
If you would like to be invited with your own horse, please ensure your horse has a negative test for EIA.
Camp Fees:
Ride 2X/day for 5 days $400/rider;   2/family $750;  3/family $1100
Evening class for Adults: Tuesday--Thursday 7-9 p.m.   Adult Class (6 hours) $225/rider; Couples $425
Optional Play Day, July 25:
            Morning-trail ride
          Afternoon-games $30 + horse fee