Riding Lessons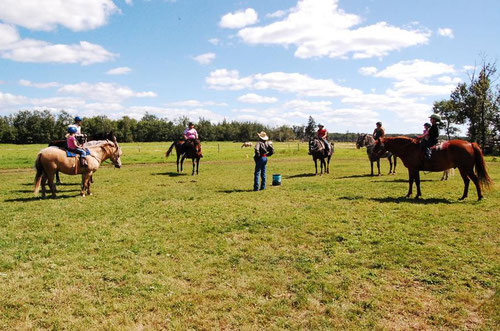 Winning Ways has been providing the opportunity for interested horse persons to learn and develop horsemanship and riding skills through a series of programs since 1999. These programs were developed for students to learn safe horsemanship practices and riding skills at a national standard, under the guidance of a certified coach. 
A participant in a Winning Ways Horsemanship &/or Riding Program will learn safe handling of horse, and basic riding skills in their first lessons. Later they may progress to novice, intermediate or advanced riding skills; psychology of horses and riders; stable management; care and feeding of horses; bandaging for first aid, travel and exercise; lunging of horse and rider/horse; unsoundness and sickness; safety for riders and horses; competition rules and etiquette; trail riding rules and etiquette. 
Winning Ways seeks to provide an environment that is enjoyable, safe and where all individuals are treated with respect and dignity. 
2022 Lesson Programs
Fall Series of Lessons 2022
Winning Ways 2022 Fall Lesson Series
6 weeks of weekly or twice-weekly lessons
Saturday Lessons start Aug 27 Times: 9 & 11 am, 2 & 4 pm
NO Saturday afternoon lesson Sept17
 Weekly lessons Start: Aug 29-Sept 1 End Week: Oct 3-7
Times: Mon - Thurs 4 or 4:30 & 6 pm
Child/Youth Riding Lessons –after school & Saturday mornings
P'tit Trot 12 hours over 6 weeks $330/pkg (Silver & Up) $390/pkg (includes manual, Game Book, certificates & back sack—must  register immediately)
Weekly Riding 6 One-hour Lessons for Beginners  $255/pkg*
Weekly Riding 6 One-hour Lessons for 10 & up $230/pkg
Weekly Riding 6 One & half Hour Lessons 10 & up $330/pkg
*Each child requires a horse handler when they start riding
Funding is available from KidSport and Jordan's Principle
Adult & Child Riding Experience—1 hour, evenings & Sat. afternoon
$420/6 weeks/adult & child         $590/6 weeks/adult & 2 children
Adult Riding Lessons—1.5 hour; evenings & Saturday afternoons
Prepaid: $240/4 Group Lessons  $345/6 Group Lessons
Pay as you go:  $65/person in a Group Riding Lesson   
                                    $85/person individually
(individual lessons only recommended for 14 yrs & up)
Learn to Ride Out Safely for  Adults  $190/4.5 hours Group Lessons (3 group sessions)              $225/4.5 hours (3 individual sessions)
Winning Ways also offers:  EAL Programs—these will continue as late into fall/winter as possible, Recreational Riding, Meditation in Motion, Miles in Motion (SHF), Horse Time & Ranch Visits
Discounts available for families
For more information:
winningways.ca               winningways@sasktel.net
Please Contact Kelly for Registration Form:
Phone, Text or WhatsApp
306 240 9535
Regular EAL Sessions will also start Aug 27 and will continue until the snow flies. Suggestions for a suitable weather-proof home for EAL are appreciated, donation of the use of a building would be super-appreciated!
Pics from our Fall 2021 Lessons
A tremendous THANK YOU
to all the dedicated helpers,
our riders would not be able to RIDE
without YOU!
If you are new to Winning Ways,
please give us a call or text.
306 240 9535
Discounts available for families