Riding Lessons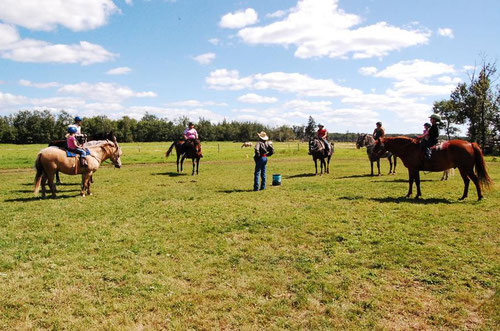 Winning Ways has been providing the opportunity for interested horse persons to learn and develop horsemanship and riding skills through a series of programs since 1999. These programs were developed for students to learn safe horsemanship practices and riding skills at a national standard, under the guidance of a certified coach. 
A participant in a Winning Ways Horsemanship &/or Riding Program will learn safe handling of horse, and basic riding skills in their first lessons. Later they may progress to novice, intermediate or advanced riding skills; psychology of horses and riders; stable management; care and feeding of horses; bandaging for first aid, travel and exercise; lunging of horse and rider/horse; unsoundness and sickness; safety for riders and horses; competition rules and etiquette; trail riding rules and etiquette. 
Winning Ways seeks to provide an environment that is enjoyable, safe and where all individuals are treated with respect and dignity. 
Fall Series of Riding Lessons
Please look at the following pages to determine your or your child's riding level for lessons.
Child/Youth Riding Lessons
  Tues, Wed, Thurs or Sat AM
$225/pkg of 6 weekly One-hour Riding Lessons

$210/pkg of 6 weekly 3/4-hour Riding Lessons
Rookie Rider program
2 lessons/week for 6 weeks
$320/12 hours
P'tit Trot program
 14 hours over 7 weeks
  Riding instruction, horsemanship, P'tit Trot manual, Game Book, certificates & back sack
  Minimum 2 students per lesson, suggested for Colts or older riders (young beginners may find this too tiring). Payment for lessons can be made in two instalments.

 New Students (includes manual,Game Book, certificates & back sack) $390
Returning Students (have already purchased materials) $350
1/2 Hour Ride-only 
Just Startin' (5 & 6 year olds)
$100/pkg of 4 Weekly Lessons
Just Startin' (7-9 year olds)
$145/pkg of 6 weekly lessons
Adult & Child Riding Experience
Would you like to ride with your child? This series of lessons is for an adult of the SAME household who wants to try riding with the child they bring to Winning Ways for lessons.
  6 weekly lessons 

    $405/6 weeks/adult & child

 $600/6 weeks/adult & 2 children

Adult Riding Lessons
 $150/pkg of 4 Group Riding Lessons
 may be taken over 4 days OR Adult Classes held on 4 Saturday afternoons 
$225/pkg of 6 Group Riding Lessons

 $40/person in a Group Riding Lesson
 $50/person individually
 (only recommended for 14 yrs & up)
$170/person Safe Trail Riding Series for
 Adults 
 3 lessons of 1.5 hours, includes Trail Ride 
Discounts available for families