Riding Lessons
NEW Safety Protocols at Winning Ways
Any participant or member of the public appearing to be ill will be asked to leave Winning Ways.
All participants are to remember the horse safety rule:
Keep one horse length (2-3 meters) between you and all other humans and horses!
Only participants and members of their household will be allowed to co-mingle at Winning Ways.   Social distance means NO handshaking, hi-fiving or touching of another person and staying  2 meters apart.  Do not  touch your face with your hands, be mindful of where your hands are at all times. Wash your hands carefully before and after engaging in any activity at Winning Ways.  Remove gloves before getting in your car; throw them out if they are disposable or disinfect them before putting them in your car (preferably in a plastic bag). When you get home, dip the bottom of your shoes in bleach water before entering the house.  We suggest all clothes worn at the ranch be washed and dried with heat.
All participants will be required to have PPE:  this includes an approved helmet with chin strap (mandatory for mirrors, recommended for adults), face cover (that can be used as needed), heeled boots, cloth/leather/garden gloves which must always be worn.  Learn to do all things, including fastening buckles and knots, with GLOVES ON. Younger participants should practice, with gloves on, at home before arriving at ranch.
All minors (under 18 years of age) must wear a helmet if riding a horse at Winning Ways.  We urge ALL beginners to wear a safety helmet for their own protection. It is strongly recommended that all participants arrive with their own helmet that is ASTM approved!  Helmets will be available at Winning Ways and will be sanitised before and after each use.  We ask parents/caregivers to help smaller riders place the helmet on their head and do up the chin strap.  All Winning Ways personnel have been instructed NOT to help with this procedure.
Horse equipment will be sanitised immediately after each participant's use and again before the next participant uses equipment. All surfaces that participants may touch will be sanitised regularly.  All saddling/unsaddling procedures will be entirely completed by either Winning Ways personnel OR the participant (if sufficiently experienced).  The social distancing requirement makes hands-on assistance of beginners impossible.
Coach Kelly will give hands-on assistance to Rookie Riders and all participants when mounting.  Parents/participants please inquire about these procedures to ensure you are comfortable with the process.  Use of face covers will be mandatory during mounting.
All Winning Ways personnel, acting as horse handlers, will remain at the head of the horse. Only in dire emergency will WW personnel reposition the rider.  Winning Ways will permit parents/caregivers to act as side-walkers for 5 & 6 year olds,  during an initial lesson, for the duration of this crisis. (Parents/caregivers are usually not allowed in the lesson ring.)
Hand washing station or sanitizer will be available outside. Paper towel to be placed in trash receptacle. Porta-potty for emergency use.  Expanded cleaning and disinfection of common/high-touch surfaces in accordance with the Saskatchewan public health order will be followed by Winning Ways personnel.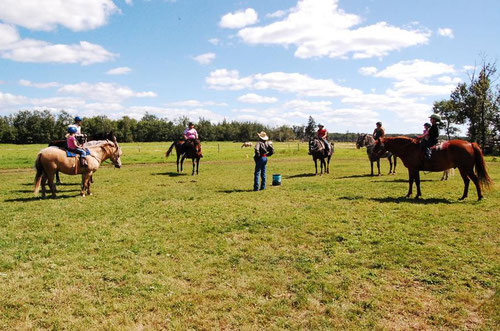 Winning Ways has been providing the opportunity for interested horse persons to learn and develop horsemanship and riding skills through a series of programs since 1999. These programs were developed for students to learn safe horsemanship practices and riding skills at a national standard, under the guidance of a certified coach. 
A participant in a Winning Ways Horsemanship &/or Riding Program will learn safe handling of horse, and basic riding skills in their first lessons. Later they may progress to novice, intermediate or advanced riding skills; psychology of horses and riders; stable management; care and feeding of horses; bandaging for first aid, travel and exercise; lunging of horse and rider/horse; unsoundness and sickness; safety for riders and horses; competition rules and etiquette; trail riding rules and etiquette. 
Winning Ways seeks to provide an environment that is enjoyable, safe and where all individuals are treated with respect and dignity. 
Riding lessons can now begin May 18, 2020
Spring Series of Riding Lessons
 As of May 18, 2020 Individual One-on-One and Same Household/Family Lessons will be available. Group Lessons will be "on hold" until later in the Re-open Saskatchewan plan.
Please look at the following pages to determine your or your child's riding level for lessons.
Child/Youth Riding Lessons
  Tues, Wed, Thurs or Sat AM
$290/pkg of 8 weekly Riding Lessons

On Hold
Rookie Rider program
2 lessons/week for 6 weeks
$320/12 hours
Condensed program for Colts & Up
$160/6 hours
 On Hold
P'tit Trot program
 14 hours over 7 weeks
  Riding instruction, horsemanship, P'tit Trot manual, Game Book, certificates & back sack
 Inquire about May start date, will end in July.
 Minimum 2 students per lesson, suggested for Colts or older riders (young beginners may find this too tiring). Payment for lessons can be made in two instalments.  Lessons will be completed in July.
 New Students (includes manual,Game Book, certificates & back sack) $390
Returning Students (have already purchased materials) $350
 One-on-One Lessons available in May

Just Startin' (5 & 6 year olds)
$100/pkg of 4 Weekly Lessons
1/2 Hour Ride-only
Just Startin' (7-9 year olds)
$145/pkg of 6 weekly lessons
2 Horsemanship + 4 X 1.2 hour riding
Beginners & Up (10 yrs & up)
$200/pkg of 6 X 3/4 hour/week
Format depends on rider's experience
Adult & Child Riding Experience
 available in May

Would you like to ride with your child? This series of lessons is for an adult of the SAME household who wants to try riding with the child they bring to Winning Ways for lessons.
 4 or 6 weekly lessons 

 $260/4 weeks/pair   $360/6 weeks/pair
Adult Riding Lessons
 $150/pkg of 4 Group Riding Lessons
 On Hold
 may be taken over 4 days OR Adult Classes held on 4 Saturday afternoons  
 $40/person in a Group Riding Lesson
 One-on-One Adult Lessons available in May

$50/person individually
 (only recommended for 14 yrs & up)
$170/person Safe Trail Riding Series for
 Adults 
 3 lessons of 1.5 hours, includes Trail Ride 
Discounts available for families