This year begins with optimism and anticipation
I am a recovering  ......... hippie!
My total hip replacement has been a great success, I am much more comfortable.  My friend, Janet, took me to the big City hospital in Saskatoon the week before Christmas.  It took considerable time to navigate all the people and departments that require your name, birthdate and what operation you are about to undergo.  This repetition tells me that at some point in medical history, there was a very big mistake and patient A got his left knee operated on instead of his right hip and patient B got the hip operation and not her knee done. 
However, doctors can and do change their minds right up until the point where the patient is heading for the operating room.  My hospital roommate is a case in point, she believed that it was necessary to redo her left knee (she had the first operation years ago).  Her doctor approached her, as doctors do, before you go for surgery, to check that it is their patient.  This surgeon suggested that she speak with his fellow consulting surgeon.  The consulting surgeon told her that it was her hip and not her knee that needed replacing and that he suggested she have her hip replaced.  The original surgeon concurred with the consultant and so my roommate received a new hip instead of the knee she thought she was getting!  Maybe that's why the hospital gets confused sometimes.
I elected general anesthetic as I have had very poor response to freezing all my life.  I explained to many of the hospital staff, that unless they wanted a very anxious and stressed patient who might possibly feel what they were doing, it was best to put me under.  Thankfully they agreed and when I woke up, I had a new hip, which they promptly took an x-ray of.  Not sure who that was to reassure, but they had an instant confirmation that I was now a bonafide hippie.  Shortly after the x-ray, they wheeled me away to my room.
Later in the evening the nurse told me that I could stand up and walk to the bathroom!!  Since my own surgery, I have heard of the even more amazing story of a cousin in Ontario, who had her operation in the morning and by evening was back in her own home!!!  I had been told that once the hip was replaced the pain would be gone.  I was very skeptical that this could be the case.  As I eased onto my affected leg and slowly put weight on it, there was no change nor occurrence of pain.  Maybe the stories were true!  OR maybe it was just all those powerful drugs that I was being administered.  In any case I walked within hours of the surgery with minimal discomfort.  The swelling and disturbance of tissues definitely caused tenderness and prevented much motion, but I was not in the same sort of pain I had been earlier.
I insisted that I was going to stay in the hospital until Friday Dec. 23, so that I would be able to take care of myself when I returned to the ranch.  It was also unbearably cold that week before Christmas, temperatures hovered around  -25 C during the day and even sank to -40 C one night.  Definitely not weather I would choose to be out in, with both legs functioning.  Janet worried, unduly, that I would have difficulty entering her car, but I was very comfortably transported back to Meadow Lake where we obtained my medications and then travelled out to Winning Ways.  My helpers had supper ready and then I put myself to bed, in my own bed.  How nice!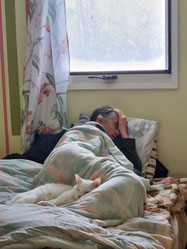 Saturday, we prepared for the celebration of Christmas Day.  I had managed to not only have decorations in place before I left for Saskatoon, but also had gifts wrapped and placed by our "tree".  Leonard came that Saturday, as we had arranged, to feed all the critters, so every pen had lots of hay to take them through the next week. Thankfully, I did not have too many duties on Christmas Eve for the celebration we held on Dec. 25.  
On Christmas Day, Amanda joined my two helpers and me in enjoying a very nicely cooked moose roast, baked potatoes, vegetables and all the trimmings.  I unwisely had to have a sip of wine with such a delicious meal.  It was not a good combination with the pain killers I was taking.  Of course, tiramisu created with Grand Marnier might have been a contributing factor to my discomfort. 
The gals even got to ride on Christmas day and moved the cows to fresh bales.  After their herd move, we opened our presents, and everyone was astounded at how generous Santa was in 2022.  In the evening Kelton, the McLeans, Amanda, the helpers, and I met on Zoom.  I even entertained with some of my friend Linda's latest poetry.  Despite being a hippie, I had a wonderful Christmas Day.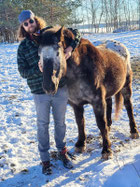 The following week Amanda Friedrich and her German boyfriend, Paul, came for a few days to renew old acquaintances with the critters and celebrate the New Year with us.  New Year's Eve was busy at the ranch with Leonard once again feeding all the pens that required bales.  Clemence and Ed visited, and Ed even got to ride Teddy around the yard.  The crew from Meed's Meadows and the McLeans showed up, and a half dozen riders went for a Trail Ride out to the east.  I was helped by Caslyn and Dominque with supper preparations, and ten of us sat down for supper.
After supper we played some board and card games.  When I got too tired to interact with the crowd, I curled up in my big chair and napped.  Earlier in the day, Paul had cleared the snow away from the fire-ring and cut up wood for a bonfire.  Late in the evening the party adjourned outside, and the bonfire was started so everyone could welcome in the new year with light and laughter.  I think that there were libations and wieners roasting around the bonfire, from the evidence I saw in the morning.  I merely watched the fire and revelers from the window as 2022 faded into 2023.
Since the beginning of 2023, I have steadily regained my mobility.  I used the walker the first couple of weeks, switched to the cane indoors and eventually walked solo.  I was able to meet with a Physio therapist, virtually, at our local hospital.  I was given exercises, which I have been faithfully doing morning and evening, to improve range of motion.  I especially work on the one I will need to swing my leg over the horse to get back in the saddle.  That was a motion that became so painful it was nearly impossible to get on my horse last fall.  Recently I have been able to go outside, here on the ranch, with the aid of two canes to ensure stability.  I even got all the way out to the calf pen and back on my own.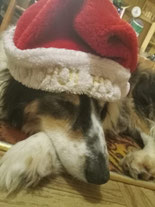 Louvic, my deaf old dog, faithfully lays in front of my bedroom door.  However, to get out the door, I frequently have to tap him as he has no idea I am standing right beside him.  I suspect that Alex is also becoming deaf or else his selective hearing is very extreme.  I cannot get his attention when I call from the doorway and he is down by the garage.  It is going to be necessary to put up many reminder signs for people to be aware that both the old dogs are deaf!
On an upcoming note, my granddaughters persuaded me that when they got a new puppy (old Yellow had to be put down this fall) I should also get one!  Since Alex will no longer be a reliable guard dog I decided that a new one would be necessary.  The puppies' mother is a big white Pyrenees and the sire could be the one neighbour's Shepherd or Husky OR hopefully the other neighbour's collie.  The girls chose the fuzzy, cute, lackadaisical brown and white male, they named BayTobin. (Yeah I know it's a play on words!)  I requested a black, short-haired, highly intelligent, vigilant pup.  I now have Eb'ny who looks very regal when she isn't considering removing herself from a uncertain situation.  I believe she will turn out to be a very astute guard dog.
This recovering hippie has many wonderful things to look forward to this spring.  I shall be able to mount my horse without that awful stabbing pain in my hip.  I look ahead to riding many miles this year and enjoying being back out in nature.  Initially, I will ask my little Tex horse to carry me, then I hope to go for many more miles on Willow.  I will also have the enjoyment of teaching Eb'ny to be an obedient guard dog.  I have many volunteers already waiting to visit Winning Ways in the coming months.  I look forward to meeting new friends and possibly renewing some old acquaintances.  Becoming a hippie has made 2023 a year full of optimism and anticipation of great things to come.