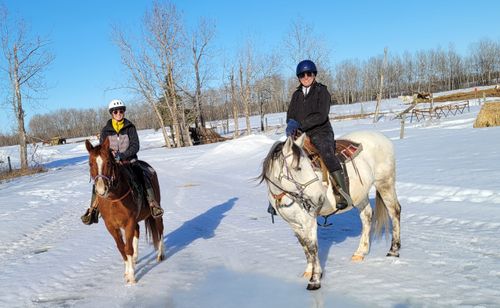 April can be this snowy OR...
THIS warm and dry!!
Mini Camps  April 10-12 & 13-15, 2023
Winning Ways offers Mini Camps during Easter Break to provide aspiring equestrians, cowboys and cowgirls with 6 days of scheduled sessions with programs designed for all ages and levels of riders.  Except for Rookie Riders, participation can include all 6 days (preferred for sequential learning) or 1, 2 or 3 days depending on specific interest.   
Register early to get dates of your choice. 
FOR THE YOUNG, NEW RIDER                                                                  
Rookie Rider      April 10, 11 &12                       10-11 AM 
Designed for 5-8 year olds who have no riding experience.  Riding is introduced using Roko, the simulated horse and progresses to Blanco, who is bigger, as well as horsemanship with small ponies.   Registration is limited to 4 students to provide the optimum learning environment.   An experienced horse handling helper is assigned to each child to ensure safety.                      $125/3 days.
Just Startin' Riding       April 13, 14 & 15        10 – 11 AM  
For children, 5 years and over, who have minimal riding experience.  Provides opportunity to interact with horses and ride (where indicated, individual helpers assigned to ensure safety).  April 13-Tack demo & Ride;  April 14-Saddling demo & Ride;   April 15-Ride & unsaddling demo.              $45/day   $130/3 days  
HORSEMANSHIP
                                                                         Horsemanship   April 10, 11 & 12     2-3:30 PM                    Those  9 years old and up may participate in Horsemanship on the Ground sessions which will give an opportunity to learn and practice grooming, somatics for both humans and horses, and in-hand training. Youngsters in these sessions may have a helper for safety.  April 10-Safety & Somatics;   April 11-Grooming, Hoof Care, controlling the horse;  April 12-Patterns & courses.              
$40/day $115/3 days
Introductory Horsemanship
April 10, 11 & 12                                 6 PM 
Introductory set of sessions to increase the confidence and safety of youth & adults curious about horses and riding, (especially if you are nervous about coming close to a horse).   You will have an opportunity to learn about safety, horse psychology, terminology, grooming, hoof care, controlling the horse and items of horse equipment (tack).                    $45/day  $120/3 days
PRIOR RIDING EXPERIENCE
Ride with Confidence                              
April 13, 14 & 15                                 2-3:30 PM 
Riders (with some experience), aged 9 and over, will groom/saddle and unsaddle each day.  Adult may ride with a Child for this session— family discount applies.               $60/1.5 hour/day            $170/3 days
Back in the Saddle                                    
April 13, 14 & 15                                 6 PM 
Experienced Youth and Adults will benefit from getting back in the saddle to prepare for Spring Lessons or general riding.  Riders groom/saddle and unsaddle each day.  Must be comfortable in walk and trot. 
$75/2 hours/day              $210/3 days
Former students (12 & over) may inquire about discount for acting as Coach's assistants for Young Beginners--$25 credit for helping with students 8 and under (both camps = $50 credit)