Equine Assisted Learning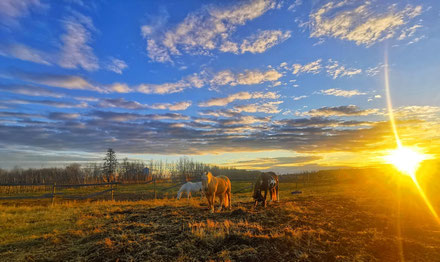 Regular EAL Sessions will start April 17, 2023, weather permitting. Suggestions for a suitable weather-proof home for EAL are appreciated, donation of the use of a building would be super-appreciated!
Horses have an amazing ability to capture the eye and heart of many humans. Not only their beauty, grace and amazing speed attract, but also the natural connection on a deeper spiritual level brings horses and humans together.  When a horse and rider are attuned to each other we often hear "they move as one".  This ability to communicate on a mystical or psychic level is what can be of great value to those who are in need of healing.  Special horses have long been regarded as "medicine horses" by the Native Americans.  The warriors and Shamans saw and experienced what horses could do to save and protect their human partners.  Today horses form the basis of healing therapies in many parts of Canada and around the world.  The horses 'prey animal' nature makes it wary of humans as predators; that they eventually trust us and even want to help us is an override of the genetic patterns that tell the horse to "RUN", escape from the "meat eater".  There are many documented cases where horses have reached out to the bereaved, the abused and the terrified. Horses have given these people peace and helped them ground themselves to allow the sadness, shame and fear to be released.  Horses can mirror what is going on in the human mind, whatever energy is moving there will also move the horse. That is how the horse can assist in healing and human wellness at Winning Ways.
Kelly has experience with at-risk-youth through a series of riding lessons taught to some young boys who were "difficult" at school and as well, she worked with Downs Syndrome children in riding lessons over several years. Her experience with the international volunteers, who have been at  Winning Ways over the past decade, has given her the opportunity to learn many techniques for helping humans in transition and guiding them to more insight about the way they think and behave. Watching animals (dogs, horses, cows and cats) reaction to each individual human gives a non-judgmental assessment of the person. Interaction with animals can teach many life skills and promote strong character building. Horses are highly sensitive and as such can intuit the human's emotions and underlying needs, it has been said that you can fool some of the people, some of the time but you can't fool a horse. This is especially true of the "brave" and "I know all about that" personae.  A horse will soon determine if you are knowledgeable and brave or just "bluffing".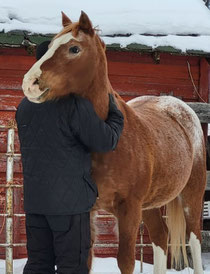 Testimonials
"It helped to know that I could trust Kelly to choose the right horse for me and that she wanted me to succeed in my battle against fear, discouragement and despair as much as I wanted to be free of these.  I feel now that there is hope for me in finding meaning in the other things I do in my life."
"I learned that my horse can reflect my mental and emotional state.  When I become preoccupied or take my mind off what we are doing, his behaviour reflects that uncertainty; when I am clear on my intentions so is my horse."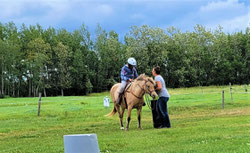 Kelly's Equine Assisted Learning has benefited Ayla in so many important ways.  The number 1 thing is horse riding is her special activity.  Ayla doesn't do anything extracurricular besides riding. (We are going to try private swimming lessons in the fall)  Ayla does not have friends that she goes and plays with.  She doesn't get invited to birthday parties.  As a parent, it is extremely hard.  I have tears in my eyes as I write this.  Ayla can't communicate to us whether it affects her but I think it does.  But riding is her thing and we see the joy it brings her. 
            Riding has given Ayla
·                    Sense of responsibility
·         Connections with new people
·         Sense of independence
·         Confidence and pride
·         Joy
·         Sense of accomplishment
·         Ability to learn new things
·         Help regulating emotions
·         Patience
·         Connection with animals
            The benefits Ayla has received will continue to grow as she keeps riding.  Ayla has only been riding for a few months but the rewards are infinite.  Like I said, the very first day of riding, Ayla was already a success story with Kelly's Equine Assisted Learning.