This essay covers a variety of events that I and sometimes family members experienced in 2018.
Brookes Reunion
The Brookes Family consists of Granny's nieces & nephews, since her sister and brother-in-law have passed away.  The homestead that Grandpa (or is it Great-great Grandpa?) Brookes proved up on 100 years ago is still in the family.  The ranch is now run by Grandsons and Great Grandsons.  The family usually holds an annual get-together and in 2018 they celebrated the 100th Anniversary of the Brookes Ranch.  We took a tour after the cake cutting and saw the site of the original homestead house, which the river nearly washed away when Great-great Grandpa's family was living in it!  That is why the house today is well up the bank, away from the Beaver River.  The large rock the different generations are seated on in the photos, has a plaque on it to commemorate the original cabin's location which is closer to the river bank.
Fluff McGruff
At the PnF Show my little student Nathaniel asked if I would look after his cat while he was in Saskatoon.  The cat was a young, neutered male that was used to living in the house and my little student was very attached to his cat.  I told him that I could not promise that my Gwen cat would be nice to his cat, but that I would try to be a good cat-sitter for his Fluffy friend.  Why the cat was named Fluffy I have no idea!  He was neither fluffy, nor cute and cuddly.  After a few weeks of being without his cat, Nathaniel's mother contacted me to say that Nathaniel was missing him so much, she had persuaded the landlord that Fluffy could stay with them in Saskatoon.  So, we only had Fluff-McGruff (that sounded much more like a big, strong, muscle cat name!) for about a month.  I know Gwen was very glad that he left so she could move back into the house again.
Who has a birthday September 22?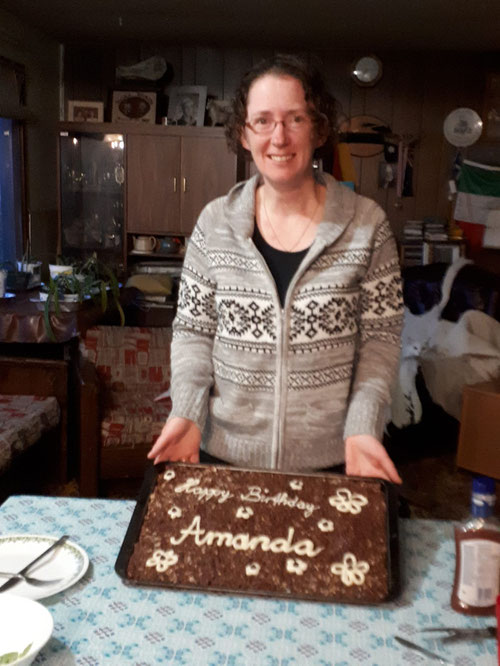 Guess what & who these Aves are!!
FarmFair
In early November I left Winning Ways on a somewhat snowy day heading for FarmFair in Edmonton.  The weather was a bit scary when it started to rain about 30 km from the big city and turned the road very icy.  Fortunately, in the city, there was enough salt to make the road just wet and not icy.  I met Vawn and the grandgirls and their friend at the big Northlands complex and we enjoyed wandering around checking out rabbits, cattle, horses, dogs and watching the rodeo.  We also got to learn how to make a type of cream cheese.  On the Sunday I went back and attended some more seminars presented by the Alberta Horse Industry Branch.  I also go to visit the Stable where Vawn is coaching and check out the facilities and visit Petunia the pot-bellied pig.
Enchanted Forest
 At the beginning of December I traveled to Saskatoon for an Emergency Preparedness Workshop & a Equine First Aid Clinic.  While I was there, I stayed with my sister-in-law and my niece & nephew.  The kids took me for a tour of the Forestry Farm's Enchanted Forest which has been lit up for 20 years now.  It is certainly huge compared to when I took my kids through it back at the beginning.
Wisdom Advent Calendar
One of the Winning Ways alumni, Lisa, did a wonderful thing this Advent!  Every day she sent out a couple of pictures with wisdom and sometimes a chuckle.  THANK YOU LISA!! (BTW Lisa is German hence Dec 2)