Found some photos ......
that's an understatement!
The following essay covers many of the aspects of the Equine Ventures at Winning Ways.  This page covers the more educational facets of our work with horses. You can find out about Horsemanship, Adult Lessons, Ladies  Rides, Training Tawny and Working Equitation.
Horsemanship
At the beginning of 2018 Winning Ways held several Horsemanship lessons in the newly renovated ML Stockyard. We could play with the equines and stay warm, it was great.  Thanks again to Thibo and everyone else from MLS.
Even Mr. Big is now becoming an equine who teaches at Winning Ways!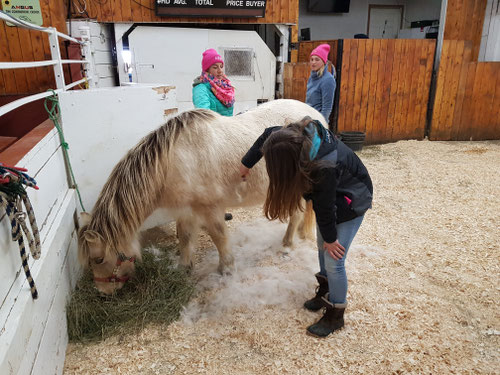 Thanks also to the Meeds Meadows helpers who assisted the students.
Adult Lessons
This year several adults came to learn more about horses and riding at Winning Ways.  They progressed from moving carefully in the beginners ring to trying different obstacles and games in the larger riding area.  Eventually they went trail riding and had adventures out in the paddocks and forest.  There was a particular trio that were dubbed the Ladies Lesson Riders who get their own heading below.  First have a look at the adults who started riding at Winning Ways in May and progressed through the year.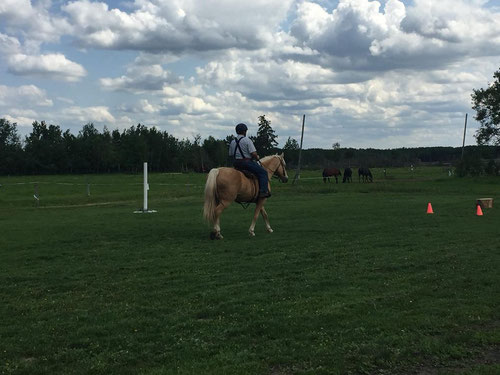 It is always gratifying to see a student progress, as John did, to their own horse!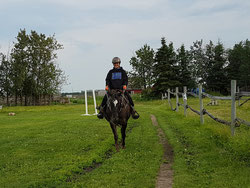 Cica had so much fun and she has the most infectious giggle that made everyone else feel her joy!
The adults got to check cows and sometimes even got to move cows
Ladies Lesson Riders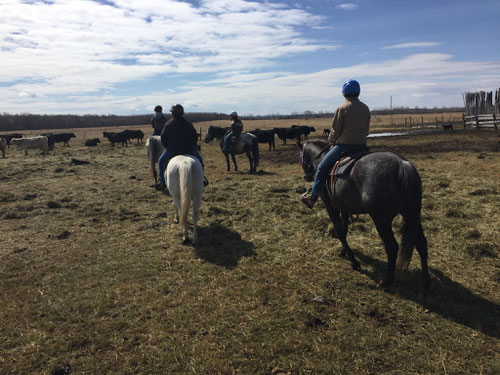 Since all the ladies have ridden at Winning Ways before we started the Ladies group, we continued on, in May, with their education/experience/adventures from the previous year.  I am not nearly quick enough with a camera but thankfully one or two others are wise enough to document our outings.  This was a team penning exercise where we sorted cow/calf pairs and brought them into a pen.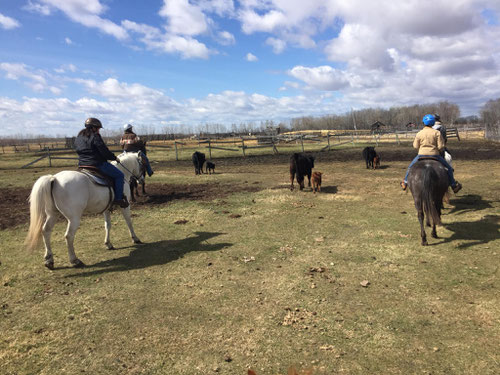 Sometimes the ladies don't even use a saddle!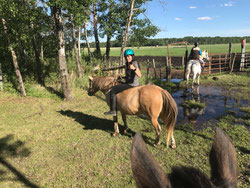 Jackie is always ready to ride! 
Even if she doesn't bring her horse.
"Sure I can ride Teddy bareback!"
I think she found being on the same level as the cows out in the pasture was a different sensation. LOL
The Ladies Lesson group planned and executed a Trail Ride in the Park in June, with Howard MacCuish, at Tall Timber Trails.  Unfortunately Janet was unable to join us on the ride but a couple of our international visitors arrived just in time to join us.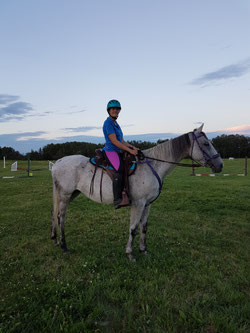 Sometimes Jackie chooses a more challenging horse for her adventures!
Training Tawny
All of the youngsters at Winning Ways go through some Bomb proofing and Obstacle training before we get on them.  Here's an example of a day the crew had some fun with Tawny.
Working Equitation
The PnF Equestrian Club held a Working Equitation Clinic at the beginning of July.  Several riders from Winning Ways attended and had an opportunity to learn from one of the top WE riders in Canada, Kim Jungman.  The two day event consisted of obstacles, dressage and speed elements of WE.