more teachers .....
Dixon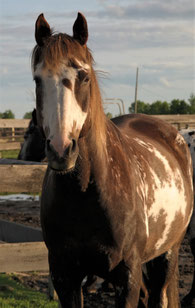 Personality:
People pleaser
Rider: Novice (in the ring) and Up
Dixon is a chestnut and white Paint gelding (with papers to show his Thoroughbred ancestors).  Dixon is very friendly, trusting and usually energetic but he's afraid of many things.  Most notably Wilbur!!  If you lead him to the Riding Area, please protect him, and stay between the "horse-eating pig" and Dixon.  Dixon really does want to do the right thing, but his flight instinct gets the better of him sometimes.  Once he reaches the Riding Area and believes you have everything under control, your ride will be quite pleasant. However, remember to keep YOUR emotions in check because if you don't Dixon will get emotional too. He is a sensitive horse and is wonderful at teaching how our emotions and intention affects our ride. He's cuddly, cute, expressive and smart, a totally loveable package.  Just remember YOU must keep Dixon safe and he'll teach you a lot.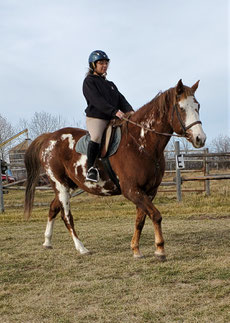 Jackson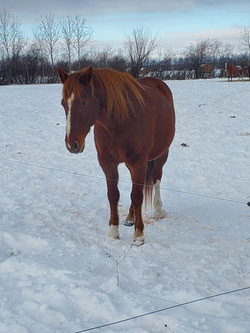 Personality:  Skeptic
Rider: Novice (in the ring) and Up
Jackson is a chestnut Quarter horse gelding who probably takes himself too seriously.  I don't think he looks for fun.  He likes to be treated with respect and will treat you with respect if he feels you are worthy of it.  I'm not sure that Jackson is judgemental (because generally horses are non-judgemental), but he doesn't trust easily.  Jackson can go around in the Riding Areas every day, quiet and slow, and give his riders a good experience.  Riding Jackson out, where there are more things to be afraid of, requires a confident and intentional rider.  Jackson likes consistency and finds having many riders a bit of a challenge.  He does not crave attention but is accepting of grooming as part of the routine.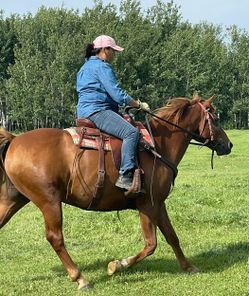 Herbie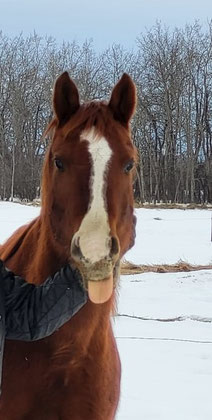 Herbie is a chestnut Arab-cross gelding who likes to stir up mischief in his herd by play fighting.  He suffered some earlier abuse and had to be rehabilitated, to accept humans handling him around his head.  Herbie wears a special bridle that does not have to pass over his ears because of his earlier trauma.  Herbie would like to be the boss of the herd, but because he is also afraid of many things the herd does not follow him.  He will act very confidant until something surprises him, then he may be nervous. Herbie, like many afraid horses, needs to know that his rider will keep him safe.  You will need some experience to know what to do when you are out of the Riding Areas.  Herbie enjoys going around with youngsters in the Riding Areas and is a caretaker for little people.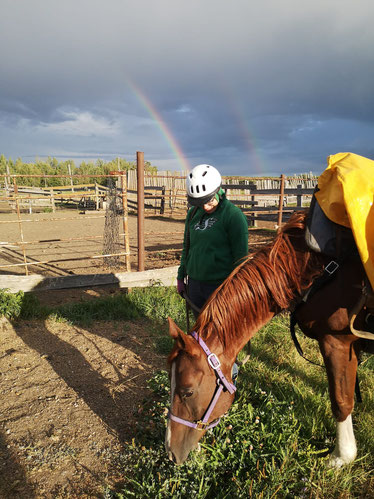 Beauty
Beauty is a bay mare who can very easily become chubby (that's an expression for gals who are a bit overweight).  We do our best to restrict her intake of carbs so she will have withers.  Withers are very important, to maintain the saddle in a good position.  Beauty is not a horse who immediately stands out in the herd, but she doesn't seem to mind.  She is willing to work, doing a variety of jobs without requiring a lot of attention or praise.  She is matter of fact, easy to motivate, with energy and a strong work ethic.  However, Beauty does require a confidant rider that has a clear intention and can give her guidance. She does try to do a good job if she understands what is asked of her.  Although tolerant of cuddling, Beauty is happy to just do her job.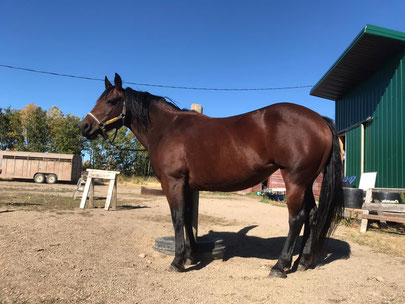 Poppy
Poppy is a chestnut mare who, although she is needy, is not bossy or unfriendly.  She really does want to make people happy. She loves attention so much she tries to be a lap-horse! We have to remind her that she's a bit too big for that! She has been well trained in the Western style, and she likes to move out.  Poppy LOVES attention and having someone with her to brush her and fuss over her. Her main drawback is her desire to have her friends close to her (herd-bound).  We recommend that she be ridden only in the Riding Areas, unless you are a very experienced rider and have knowledge in helping a horse overcome separation anxiety.  While Poppy appreciates humans caring for her, she is still very attached to her herd mates and will call for them and look or move anxiously when they are not close.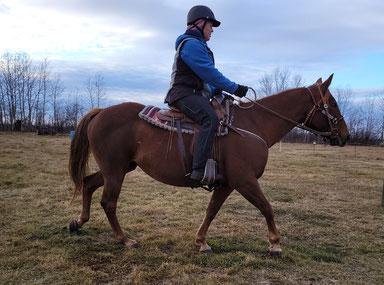 Brandy
Brandy is a Pinto pony who would rather run away than deal with anything she cannot control.  We suspect she was traumatized as a foal and has never been able to reduce her flight instinct since then.  She does like to do her job well, and if ridden by a very confident rider, Brandy will accomplish amazing deeds.  However, if  she is unsure of the rider or the rider lacks courage, Brandy would rather run away.  She is aloof and frequently sees the only solution as "leave the scene."  Brandy has unlimited energy to do that. One of her nicknames has been "Firecracker".  Because of her energy, Brandy is great at chasing cows. Despite her size, she and her owner, Ava, have gotten some of the most stubborn cows and bulls to cooperate. If you convince her you know what you're doing, she is an amazing mount.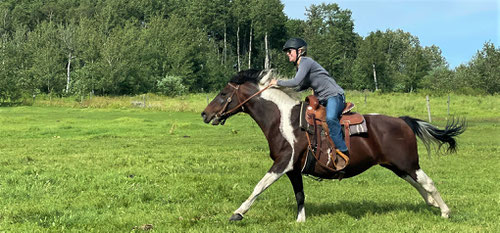 Ranger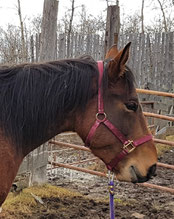 Personality:
       Solo Artist
Rider: Intermediate in the ring & Up
Ranger is a bay and white Pinto who is still in training to be a school horse.  He has had some health issues that have slowed his training and since he's lazy, he doesn't mind not having a steady job.  Ranger does better with a variety of experiences, as he gets bored easily. He likes his friends and can be a bit herd-bound. Ranger tends to be at the bottom of the pecking order but that suits his laid-back nature just fine. He can learn quickly because he thinks before he moves. Sometimes it seems he daydreams or even falls asleep while being groomed and saddled. With Ranger there's no unpredictable reacting to the environment, just a slow pace, and waiting to hear the "Whoa" so he can take a break.