Our teachers
Teddy
Personality: Goddess                    
Rider: Beginner – Experienced
Teddy is a little blond (Champagne) pony who loves kids. He is the perfect babysitter and takes care of his little rider. He is very concerned if a child gets hurt and will put his nose right up to a crying child. He is not as careful when he gets ridden by an adult, but he is lots of fun for older riders to ride bareback. He has no problems going by himself out in the pasture or in the arena. He is quiet, easy going and patient. Sometimes he will startle when someone or something suddenly appears in front of him. He does not spook when children ride him in the arena. He loves to get attention from children, and he enjoys hugs, kisses AND crunchies.
Tango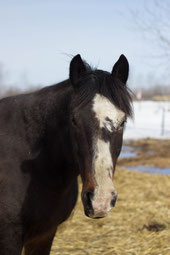 Personality: Accountant                                             
Rider: Beginner - Novice
Tango, although he is tall (16 hands), loves children especially if they have a treat. He is easy to catch in the pen and a good beginner horse. As quiet and patient as he is, he can go around in the arena for hours and carry children. Out in the pasture he is good to ride, but he always tries to eat, so he needs a muzzle to avoid that. He is a good horse for practicing posting trot and sitting trot; he has long legs and his trot is very smooth. He is a well-trained English horse, but he is slow and needs extra motivation to get him going when you chase cows. He has a crack in his front hoof, that does not cause pain, but we must keep it trimmed very short, so he does not become lame.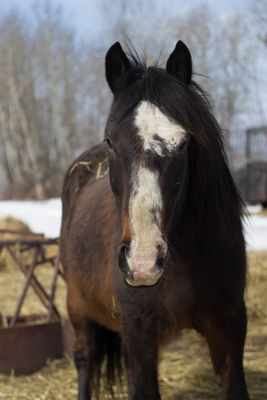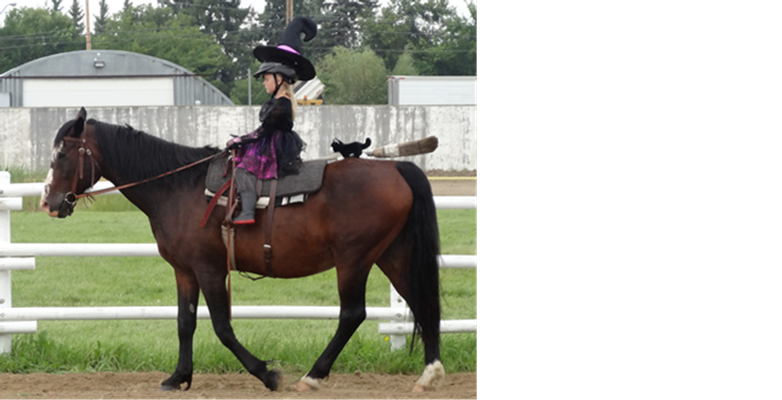 Ryder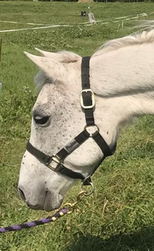 Personality: People Pleaser                   
Rider: Lead-line OR  Intermediate and Up
Ryder is a friendly energetic Ara-welsh pony who is always on guard.  He is a sentinel (guard) for his herd.  However, if he is engaged with his rider, he will carry them very safely, almost tenderly to ensure they are well taken care of.  In a less controlled situation, Ryder would still choose to flee if there is any danger.  He likes to be groomed and allows "his little people" to pick up his feet.  Ryder does not get along with everyone, I think he knows very well who is going to treat him well and love him.  If someone is not truly willing to be his friend, he will not let them on to ride or he will give them a very bouncy, uncomfortable ride.  Ryder prefers the safety and security of the riding ring to going out chasing cows.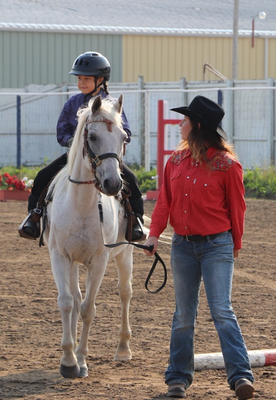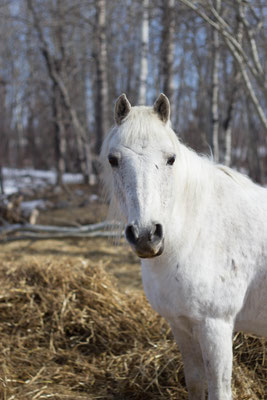 Scout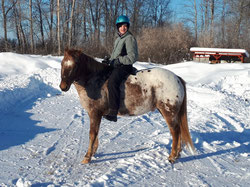 Personality: Steady Eddy
Rider: Colts (in the ring) & up
Scout is an Appaloosa pony that is nearly finished his training.  He has done well with young riders because of his willingness to figure out what the rider wants and then do it.  Because he's a bit lazy it's easier to just "tootle" along and not worry about getting excited. He has always been laid-back and trustworthy despite not having lots of experience he takes good care of his rider. He would prefer to do things with a minimum of fuss and bother, the sooner we get the job done the sooner we go back to eating.  He does like to eat. Scout is developing into a very safe and dependable school horse. He might not always ask for cuddles, but he does enjoy a good scratch and will search out any snacks you might have. 
Rocky
Personality: Solo Artist          
Rider: Beginner – Intermediate
Rocky is a dark blue roan, well trained horse that will do everything, as long as her rider motivates her. She really doesn't mind carrying children around on her back since they never ask her to go fast. But she doesn't like to go all by herself out in the field, and Rocky definitely does not like being the last horse on a trail ride. She is nice to ride in the arena, but only intermediate or experienced riders should ride her out alone. She can be hard to catch, but this depends on the human's attitude and which other horse is with her in the pen.  Rocky has a scar on her hindquarters where she rolled on a sharp piece of metal. Do you think you can find where it is?
Shadow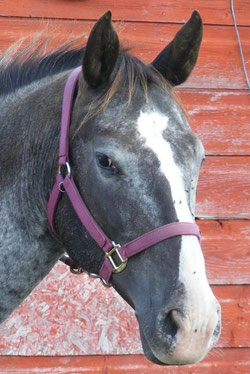 Personality: Prize Fighter   Rider: Beginner -- Experienced
Shadow might be called the "Old Grey Mare," but actually she is a blue roan Appaloosa X Quarter Horse.  Shadow does not do anything, unless she is convinced it is in her best interest, otherwise she will just stand there and eat. She is very quiet, laid-back and knows what is going on (frequently she knows a great deal more than her riders). She can chase cows, run around barrels, and carry little children safely.  She does not really care about other horses or people, except for when she needs something to boss around.  She is fine by herself, especially if she has food. Shadow can go in the arena and out in the field and she will bring you home safe – it does not matter if you are alone or have 5 other riders following you. She will take care of you!  Shadow does not appreciate hugging and kissing!!! She does not even like grooming.  Shadow has an "allergy" to some type of grass, so for lessons she does not wear a bit because her mouth is often sore.
Slim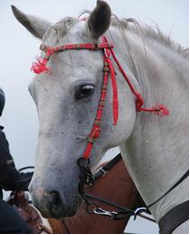 Slim is a grey Quarter Horse crossbred that is generally quiet and nice to ride as long as his rider does not pull too hard on his mouth. For lessons, Slim is ridden with a bitless bridle, but he still does not like to have the reins pulled hard or be held tightly. Slim has a long scar on the lower left side of his belly, but it does not bother him to have it touched. He walks slowly but he does not get tired very easily and you can ride him over a long distance. He is a well-trained horse who does not mind chasing cows if they are going slowly.  Slim does not like being the last horse on a trail ride because he is not very brave.  Slim appreciates  attention from his rider, and he enjoys being groomed.
Tex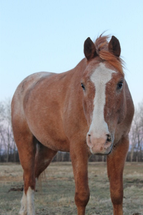 Personality: People Pleaser                   
Rider: Lead-line or Novice & Up
Tex is a red roan (frosty hips) Appaloosa pony.  He is very energetic and likes to get his job done quickly.  Sometimes he moves too quickly for very young children, especially if they are inexperienced with a horse's speed.  Tex is an excellent cow chasing mount and likes to do this type of work.  He can be cautious but usually is curious and courageous.  He likes people and enjoys attention.  He is easily groomed and picks up his feet like a gentleman.  Tex will 'talk' to his rider and wants his person to be close to him, fussing over him is fine.