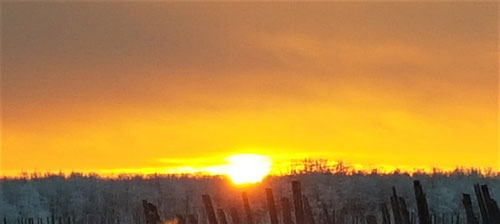 Serenity ... Courage ... Wisdom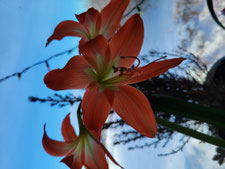 The Winning Ways annual Updates are a means of communicating with friends and family about what has occurred in the past year.  Posted every year at or near the Winter Solstice, they give me the opportunity to tell a few true, some hopefully entertaining, stories, thank people and possibly give those who read them something to think about.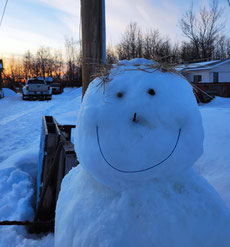 After the preceding two, Covid dominated, years, 2022 was an improvement in plans actually being carried out.  There are still shortages of workers in nearly every field from agriculture to tourism to retail and all the manufacturing industries.  This era is one of those watershed moments when our descendants will look back and pinpoint a revolution occurring.  Revolutions usually are not fun to live through, but I hope that in this case, what eventually arises out of the chaos will be a better society, economic system and environment. I know change, unpredictability and uncertainty will always be part of life. I appreciate the old prayer that says " God, grant me the serenity to accept the things I cannot change, courage to change the things I can, and wisdom to know the difference."  I'm asking for lots of serenity, courage and wisdom these days.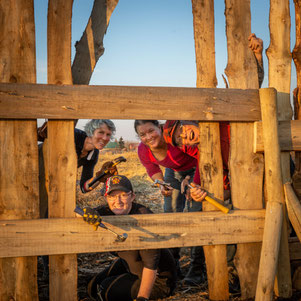 Every day, after my meditation, I visualize my crew of happy helpers.
Just look at what a happy crew were here this fall!  The photographer took pictures with a smile too!
Winning Ways would not be able to function as it does without the kind and generous support of so many helping hands!  Yes, I can and occasionally do, run the ranch solo, without the support of resident volunteers.  However, during those periods, the local volunteers are there to assist with so many chores that need to be done.  I have a list of over 20 names of resident volunteers who experienced ranch life at Winning Ways during the past year.  I hope all of you know, that you are appreciated and valued for your contribution to the ranch.
In order to protect the privacy of those who visit from around the world or are underage, I do not mention names.  Local friends and family members may receive specific mention.  National and international visitors will know those events in which they participated, and for which they are sincerely thanked for all their efforts.  I think nearly every volunteer can now saddle and unsaddle a horse with very little difficulty because they practiced those skills a great many times.  The students and clients of Winning Ways are very happy that you took the time and effort to learn horsemanship skills and pass them on.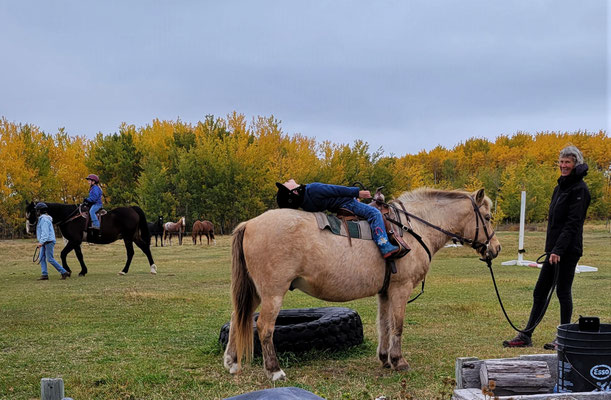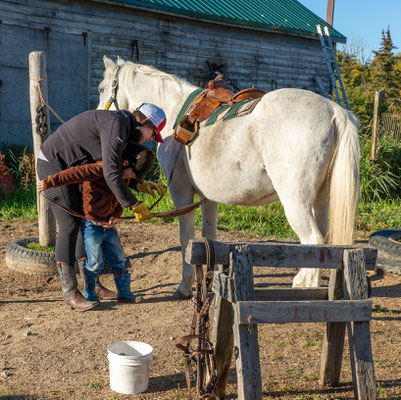 Many kind and useful things have happened during the past year because of the efforts of Winning Ways' volunteers. One of the helpers created a little book of recipes for future helpers to be able to easily make a tasty meal. The little book contains ideas for simple things such as rice salad—"cook some rice, put everything you want with it.  Good idea if you have lots of leftovers!" OR Baked avocados OR Fried eggs—"Crack the eggs in a pan (hot) with melted butter or fat in it. Add the feta cubes on it. Add the slices of tomato. Add the cashews. Let it cook for 5 min."  Some slightly more elaborate recipes have been added as other great cooks spent time in the Winning Ways kitchen.
The great cooks, bakers and innovators provided a host of different ideas to keep all the hungry folks incredibly satisfied! We tried blue Konjac noodles and pink spaghetti, Campfire bread, ice cream cones at the drive-thru ON HORSEBACK, steaks on the barbeque, a Korean "bowl", wild blueberries right out in the blueberry patch, flambeed bananas, beet/feta/walnuts roasted to perfection and of course, turkey we helped harvest for Thanksgiving.  We even had a Pumpkin feast for Halloween with pumpkin served so many ways.  Plentiful, delicious meals, many of them gluten free.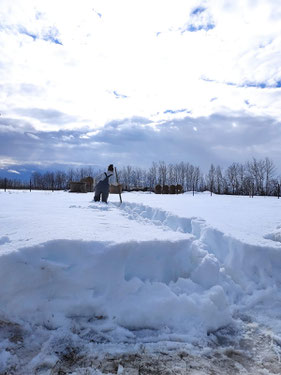 There was an amazing group of young people who moved mountains of snow last spring. Snow was piled everywhere, then we needed whatever was behind the snow mountain, so the snow had to go elsewhere.  They also helped to clean the pen and shed for the mini mares to foal in.  I think they even helped tag calves, which was a whole new adventure for them.
There were many hands involved in all the cleaning that got done throughout the year.  Besides snow removal from many places around the yard and even off the deck, volunteers pooper scooped the yard, the tie area, the riding areas and the driveway. Marilyn led some of the helpers in a round of housecleaning, I think she permanently lost a clock on me.  She has no idea how she lost track of it. 
I always appreciate volunteers who have a good camera and a great eye for a professional quality photo.  There were some great photos taken this year.  Have a look!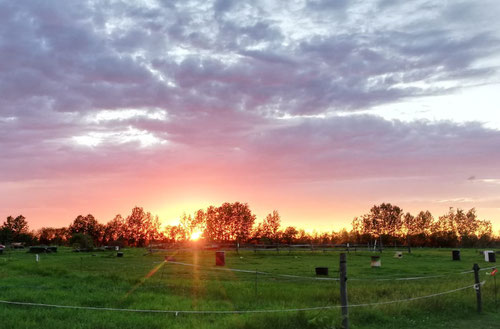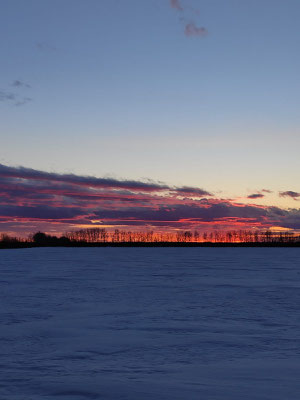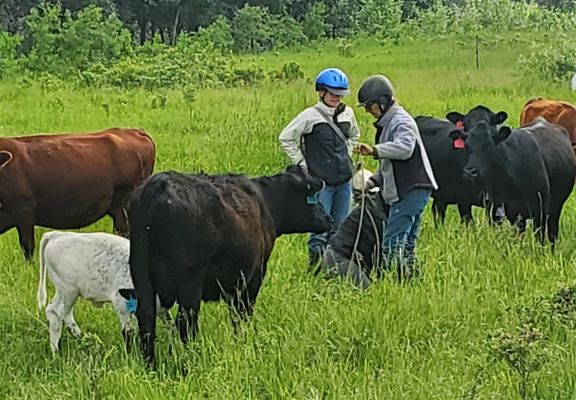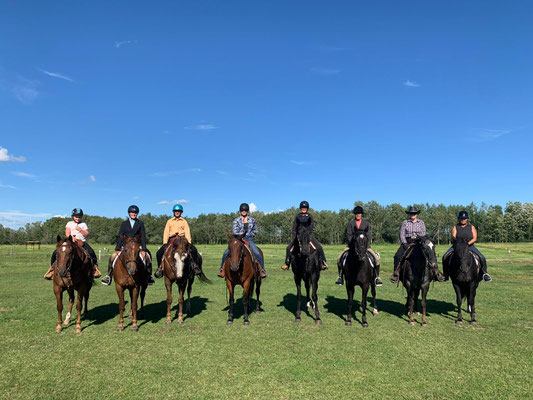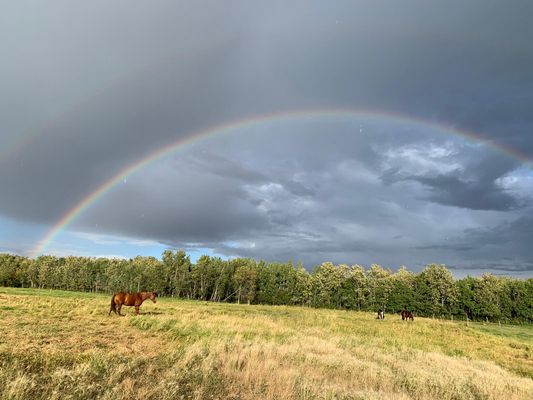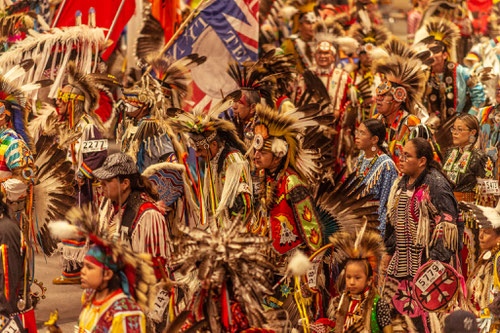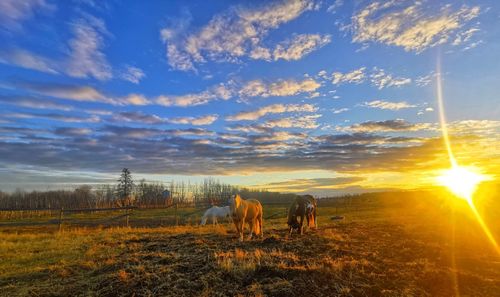 Volunteers helped rescue chilled lambs, please check out the blog for that story.  They searched for misplaced calves and missing cattle.  Some cows just can't keep track of their calves and the cow expects you to find it for her!! Then there was the day when we drove down the road and saw our cows in the neighbour's hay field.
We drove back home, caught the horses, saddled up and headed out to the hay field. We found a small group of cattle over a hill and headed them back home, but there had been another group in the same field, where were they?  One volunteer and I searched all the neighbouring fields and looked for tracks, no cattle to be found!  We headed back to the yard and the other volunteers told us they had got the ones they followed, back home.  We checked the paddock near the water troughs, all the cattle were there!!  Apparently while we were saddling our horses, the cows got thirsty and came home for a drink. We checked the fence and made some repairs and the next day we put an electric fence in place.  The cows stayed home after that.
Kindness to my critters and me was demonstrated by the willing hands that saddled and unsaddled my pony or horse, made me hot ginger/lemon/honey tea when I was sick, looked after all the critters while I was away several times, and checked on me when my pony used me for traction to get out of the hole he had fallen into. Then there was the wonderful therapist who helped Oh Henry.
My mini mare, Missy, foaled at the end of May. Oh Henry, (his name HAD to be another chocolate bar like his big brother MR BIG), was not quite strong enough to stand. Missy experienced some cramping and started laying down, I remembered I had calves suckle the cow, when the cow was laying down, so I arranged Henry beside Missy so he could nurse.  Thankfully he was willing and able to suck so he got fed right away.
Henry's legs were very weak and appeared to be deformed.  The vet said he would probably grow out of it and strengthen as he developed.  Progress was not very rapid and when a physiotherapist joined the crew, she volunteered to stretch and massage the terribly abnormal front legs.  Her expertise in knowing what muscles should stretch and which tendons had to stay static, as well as having the energy in her hands to bring healing to the poor little fellow was extremely appreciated!  Although Henry may never be 100% correct, I believe that he would not be walking, playing, running and kicking up his heels if not for the treatment of those healing hands.
Happy helpers may come from around the globe or down the road.  Winning Ways has been blessed with so many wonderful folks that live near-by and many visit frequently.  These friends and family members have done so much to brighten my days on the ranch.  One day Dawn brought saddles—3 of them!!  They have been put to good use and the students have been enjoying riding in them. Thank you Dawn! Fiona brought me a beautiful wood etching made by her twin and created funny or beautiful Tik Toks of Winning Ways Ranch.  Perhaps if you know this app you can find them.  Thank you Fiona!
Janet caught and held many horses for the farrier plus she always remembers my birthday with a card and gift.  Janet has also walked a gazillion steps leading school horses/ponies and helped many little people learn about horsemanship.  Thank you Janet!  Loretta led many Lessons on the Trail, as well as put up with me for a week while we were at a Coaching Course. Loretta is looking forward to her cushiony new ride,  Cariño. Thank you Loretta!
The McLeans helped with all the ranch chores, and additionally took me to Cirque du Soleil.  The girls and Vawn spent nearly 3 weeks on the ranch this summer riding, fixing, chasing, teaching, anything that was needed. Thank you Vawn, Caslyn and Elissa! Kelton fixed the lights on the trailer and did numerous little "fix-it jobs" when he spent a month at Winning Ways this fall. Thank you Kelton!
Amanda spent many hours desensitizing and teaching mules, teaching helpers how to drive and assisting with Lessons on the Trail.  Len continues to rescue me when I can't figure out how to make the machinery do what I need!  The bale supplier moved some huge snowbanks last winter and keeps bringing bales to feed my critters.  Thanks Amanda, Len and Dale!
Marlene asked me to be part of the memorial for George.  Tara and Ava did the chores while I was away. Nathan wrote me a wonderful reference letter.  Another neighbour allowed us to use his cattle handling facilities to vaccinate. Tirzah was our yard cleaner for the months of August and September. My hunting neighbours brought me meat.  A friend brought me a great book to read "The Horsewomen." Marion and Jordan helped bring the bulls home. There was a mysterious secret Santa who delivers jigsaw puzzles.    
So much to be thankful for!! So many family members & friends making my life easier and happier. Thank you to you all my family, friends and neighbours!  
As I post this Update I am once again reminded that it requires wisdom to know what one must accept and what one can change.  One can only change one's self, so I am seeking self-compassion and patience when events do not unfold as I would wish them. I am feeling disquiet about the next few weeks as I become the recipient of a new hip joint on Dec 20.  I will have to relinquish control over many things for the next few weeks!  That will definitely require change and acceptance on my part. I look forward to 2023 as a year of greater mobility and ease. I envision swinging on my horse comfortably and riding with much less distress.
I have seen several advertisements that are foretelling of a better year, next year.  May the world, in 2023, see an improvement in peace, economics and the environment.  I wish all my readers love, peace and light beyond your wildest imaginings and may those in need of help and healing receive those gifts. May you be blessed with wisdom, acceptance, courage and at the end of the day find yourself comfortably content.
Thanks again to all my family and friends for an amazing life!
'til our trails cross again,
Kelly