Yuletide Greetings to You All!!
The year 2013 was filled with unexpected events and some weird weather phenomena.  If I recall correctly there were 5 months without snow this year.  Although the summer was not spectacular it was a good growing season and the grass had adequate to even excess moisture in this area.
In December 2012 Nancy got an email that started her process to receive her landed immigrant status in Canada.  With much communication back and forth Nancy and I successfully filled in all the necessary paperwork and I sent the forms off to Detroit right at Christmas time.  I worried that the envelope might get lost but it didn't.  In fact the reply came so fast, right after the New Year, I thought that something must be missing. I opened the envelope immediately when I got it at the Post Office; there was the paper she had been looking for.  Nancy got her permanent residency! 
However, she had already scheduled reconstructive surgery on her shoulder that had been injured the previous summer.  The surgery was completed in February and her shoulder slowly recuperated over the next 3 months.  Nancy decided that she would help plan and prepare her father's 50th birthday party in the middle of May and then return to Canada—this time arriving in Halifax.  She got her papers approved and she flew out west to join us for the summer.  She had to wait for her Social Insurance Number as there was a number missing on the document that had been supplied to her at Halifax.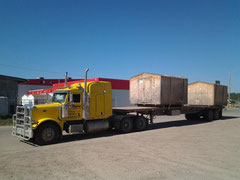 She started working at the local Home Hardware store in August and has been making many miles for them driving trucks ever since. Occasionally Nancy takes extra packages and passengers to and from Saskatoon.  Helpers think that it is a great new experience to ride in a BIG truck!
In January I attended a couple of equine courses at a lovely facility near Prince Albert.  Of course this gave me the opportunity to visit with my granddaughters and their parents for most of a week.  I also learned more about horses facilitating change in people's lives (something I have watched happen many times here at Winning Ways).  I received my Equine Assisted Personal Development Coaching certificate and met a great group of like minded individuals.  As well I acquired certification as an instructor of emergency equine first aid training through Equi-HealthCanada. A few weeks later I taught a group of ladies how they could provide first available treatment to a horse before the veterinarian arrives as well as giving them many helpful hints to improve the health and safety of their horses.
Later, in the summer, I travelled to Higher Trails near Calgary to obtain my certification as an Equine Assisted Learning Facilitator.  "EAL has shown to be very effective in the treatment of depression, addictions, anger management and victimization. It also has proved to be effective in corporate settings for team building, identifying communication issues, as well as understanding team dynamics. This has all been accomplished through interaction with horses."  Again I met great folks and talked horses and how they can help humans in a whole new way, learned business strategies, designed and evaluated client presentations and generally was immersed in a different aspect of the equine world.
"Howard's (MacCuish) on his way to the hospital in Saskatoon with a broken leg!!"
"WHAT??!!"  "How did THAT happen?"
"Log processor hit his leg."
OMG
Long story short—On the first of March Howard slipped and the leg went where the log was supposed to and the processor didn't know the difference. KRUNCH
Later they told him they were very close to saying it was going to have to be amputated!
Some of us arranged a benefit supper, silent auction and entertainment for Howard in April when he was able to get around a bit.  Linda Nadon had written a poem about Howard rescuing me in the fall of 2012 so she debuted the new poem that evening. In addition Nancy, who was still in Germany, wrote a poem for Howard.
What a cowboy does By Nancy Schön (2013)
poem howard w pics.pdf
Adobe Acrobat Document
5.4 MB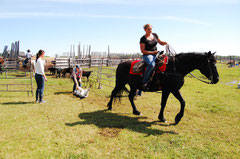 With a great deal of therapy and persistence on Howard's part, he is back hunting but not tramping through the woods—he rides his trusty 4 wheeler.  But he did come to the brandings and rode Buster and roped calves.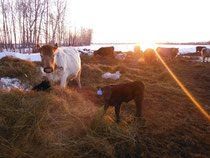 The snow that came early in the fall of 2012, made the winter long and very tiresome—there were places that it took a very large CAT to push the snow into even larger snow banks.  After the CAT had done its job, Len & his Bobcat built little 'nests' in the paddocks to the east and south.  Then we placed a few bales in each one and the cows continued to bale graze but certainly not in the usual manner.  However this method eliminated the contaminated calving areas that many ranchers dealt with in the spring and Winning Ways calves remained healthy.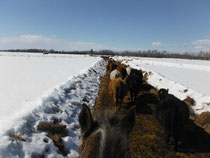 Calving was chiefly uneventful except on the evening that Nancy brought in a heifer with what she thought was a 'dead calf' delivery.  Part way through the pull the little critter blinked—"It's alive!! Get it out NOW!"  The whole crew went into high speed and very soon had a very weak but still alive calf out of the heifer.  #306 is still very tiny this fall, so now he gets to live in Marilyn's warm barn with his herd mate "Tiny".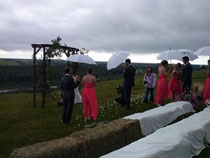 2013 was the year several of my family and friends chose to "get hitched" as the old expression goes.  My nephew, the gal up the road, Howard's eldest son and my niece all had their big days this summer. All of these celebrations took place outdoors--some in the rain (two of them were very wet!).
One pair went up in the mountains, then had a party in the big tent at their little ranch and last ones got married at the golf course.  All incredible illustrations of how creative bridal festivities can be!  Kelton came back for both his cousins' weddings; had a very short visit in June but he stayed around a bit longer in August.
During the spring and summer our crew participated in several horse competitions--playdays, the Meadow Lake Rodeo trail horse challenge, the Radisson Fair, andthe Prairie 'n' Forest horse show.  There were several winners; but the most creative of all of them was the "Motor Cycle Momma" at the P'n'F Show.  Have a look at that motor cycle! [You can click to enlarge]

In addition Winning Ways hosted it's first series of Cross Country Trail Rides this past summer.  You can find pictures and information about those rides under the Trail Rides section of Equine adVentures on the website.  You can also see what we do at the Horse Camps that Vawn and I organize under the same tab.  Winning Ways Lessons are also featured under that tab.

Marilyn Meeds-Sinclair wanted to go back to the Rockies, so I said I would join the adventure and drive my truck hooked onto her trailer.  We planned to go at the end of June 2013.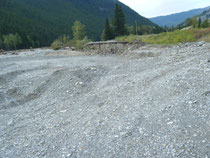 But then the 'monsoons' came in the mountains and washed all the snow down into the rivers which are already full at that time of year and turned the whole area around Calgary into a flood disaster zone. The parking area where Leonard MacCuish, who was to be the guide for this mountain adventure, had advised us to meet him vanished—the highway completely washed away. The backcountry was shut down!!
It took about 2 months for the area to be cleaned up.  Amazingly the Calgary Stampede, whose grounds were completely under water at the end of June, continued in fine style by July 5, although some venues remained closed.  It took longer to rebuild roads and bridges that had been swept away by the horrendous force of the water.  Eventually Leonard heard that the highway to the area west of Longview had been reopened, so our adventure was back on.  Leonard and some of Meeds Meadows helpers went out to the mountains to scout around and see where we could camp and which trails were rideable.
After my niece's wedding on the Labour Day weekend, Marilyn and I headed west with 4 horses on a rather hot Monday.  When we got to Okotoks I discovered I had a fuel leak, only when the truck was running, but still very alarming.  I decided to run to the mountain parking lot as we had arranged with Leonard and hope that the truck would still have enough fuel to get back to civilization if repairs were required.  We made it and camped in a rather lovely spot just off the HighwoodRiver. The next day Leonard determined that I did indeed need to take it to a shop and so Marilyn and I headed off to Black Diamond to get it repaired.  They said they hoped to have it ready by Thursday. Good, now we could go back and ride.
Thursday afternoon I picked up the truck and took Marilyn's trailer with me to the EAL course at Higher Trails which is located just outside of Okotoks.  On Friday I got a call from the RCMPolice "Did you borrow Leonard's truck?" 
"WHAT?!  No I do not have his truck!  What's happened?!"
"His truck is missing from the parking lot on the Highwood and he thought you might possibly have used it."
OMG "No I certainly did not!!!"
Then it started to rain, steady, drizzly, cold wet—miserable for horses and humans!  I was worried about my fellow adventurers and apparently rightly so.  I got a call the next morning from Marilyn asking me to bring the truck and trailer to Black Diamond where they would give me the car and they would go back and pick up the horses and crew.  Leonard's friend Dewy, at the Anchor D, was going to put the horses in the barn and the people in cabins.  I'm sure that Marilyn spent the rest of the day drying out everything that had been soaked in the rain.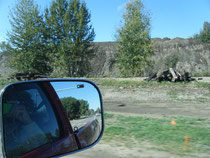 On Sunday I joined a dry group of 'Rocky Mountain Riders' and got to partake in Dewy's incredible hospitality as well.  On Monday we were able to go on a site seeing tour of High River which had been terribly devastated by the flood. For you Heartland fans, we got to see where some of the filming is done in High River.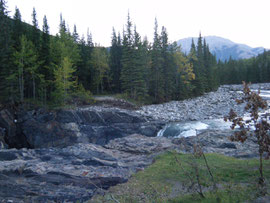 Then we got to take another mountain ride, this time closer to the SheepRiver; in the evening I got to see the river and some of the washed out areas.
We all packed up and headed back to Saskatchewan on Tuesday.  We unloaded my equipment and gear here at Winning Ways and then Bruce hooked on the trailer and took the horses, Marilyn and her helpers to Meeds Meadows.  Leonard and Howard went out the next day and brought Leonard's trailer and horses back.  Yes! Leonard's truck was stolen right out from under the trailer to which it had been hooked. It was eventually found in Calgary and after MUCH debate with SGI (insurance agency) and frustration on Leonard's part it was deemed a "write off" and he finally got paid out.  But not before he bought another Ford; this one is an automatic and does not have the traction the old one had (he cusses at this one a lot!)  He also bought Clemence's car when she returned to France so now he doesn't even have to drive the Ford!
Where else but Winning Ways would folks get up before 5 a.m. to go for a trail ride?  This summer there were some hot days and so the crew chose to get up when it was cool and be at the lake for sunrise pictures. There were the usual Cattle Drives this past spring and summer although not as many as in former years, because of the reduction in the cattle numbers.  This fall I again marketed the majority of the calves and there are less that 50 head of calves to feed at the present.  I am continuing the slow reduction of the cow herd and plan to market more cows in the new year.  I took a head count of the horse herd and concluded that I only have 4 mares, 5 geldings and one jointly-owned gelding. So I can say I have less than 10 horses.  However there seem to be several 'boarders' that live here including Windy's 2013 foal, Chip, who belongs to Elissa, and Caslyn's yearling Flynn. Vawn is planning a 'prospect horse' tour next spring so we might have a few different youngsters in training next spring.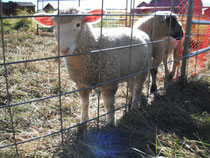 I think I forgot to mention that somewhere in the summer Winning Ways acquired half a dozen lambs!  Now we are always generous and share with Meeds Meadows—they took two lambs and of those left here unfortunately one died.  That still leaves us with 3 lambs that have now turned into sheep but we hope they will still be tasty lamb chops.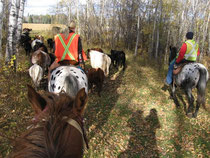 The hunting season always sees the Winning Ways crew out in their orange/yellow vests in order to be seen. This fall was no exception—none of us got shot at but there were hunters out there…Chris spent several days at the North Ranch looking for an elusive moose.  He had to settle for a nice fat doe which he took home and turned into great tasting jerky.  A couple of weeks later he came back to hunt with Daryl and Tyson.  He chose to go on Jenya's nicely cleared trail and spotted some fresh tracks, he followed them until he found even fresher ones that led him to where 2 young bull moose were bedded down.  He got the second one as it jumped up and so now we have 'moose burger' in the deep freeze.
'Tis cold and bleak outside in December, although the sun shines, its rays are so oblique there is little heat to be felt.  The experts have confirmed that the earth is in a state of global warming so the weather patterns have become more erratic, hence the temperature rises and falls with little regard to the sun's appearance and disappearance. I wonder if the whole world is feeling just a bit uncomfortable with the unpredictability of the weather.  Perhaps there are areas with the same patterns that they have experienced for years but not here on the great plains of North America.
Now on the upside, we have not had a typhoon, tsunami, tornado or hurricane—yet.  Although Sunday, Dec. 15, the winds were approaching 'plow wind' force. It was forecast and it appeared with great rapidity when it did strike.  The roads were rapidly blown in and driving became a very dangerous pursuit.  It seems this fall that driving has been in that category on a number of occasions.  When have you heard of a 30+ vehicle pile-up on a Saskatchewan Highway?  It occurred right in the same area that I had my accident last year and again toward the beginning of November!  Amazingly no one was seriously injured although there were several taken to hospitals.  As I started out this Update—there has been some weird weather in 2013!!
Winning Ways has had helpers from many different countries again this year and although many of them stayed for several months, others only remained a few days.  We had several returnees and will host some more of the Winning Ways alumni in 2014.  We hope that all those who visited us gained some valuable experience from their excursion into Northwestern Saskatchewan. We thank all those who helped us in so many ways—sometimes a simple smile and "Thank you" from the heart means so much.
There were certainly some unexpected twists and turns to 2013.  But if it is, as the Mayan's propose, the start of a new era then the shaky start might be expected.  The human race needs to get the new mind set that we are all responsible for our own destiny and need to make careful choices. Each of us can choose to be happy and that, all by itself, will change the world!  I'm choosing to have a very happy yuletide and this will continue in 2014.  By many reports there are others, besides me, who are choosing to see the new era as one of changes for the better. So my advice to you is: be careful what you wish for you may indeed get it!  Choose a bright future for yourself and those around you.  Choose to live in harmony, peace and love as I plan to do.
May each of you be blessed with health, prosperity, joy and friendship!
'til our trails cross,
Kelly