What's next indeed!?!
Granny and Kelton
In the middle of October, my brother-in-law, Daryl, let me know that Grandma Evangeline, was rapidly declining.  So much so, that she was declared a palliative care recipient and would be returned from the Nursing Home in Spiritwood, to the hospital here in Meadow Lake.  At that point I let my children know that their grandmother might not be with us too much longer.
Kelton, who remained in Hamilton throughout the Covid crisis, decided that he would return home, and hoped to spend some time with Granny. He flew into Saskatoon and his uncle, Fritz, brought Kelton to Meadow Lake when Fritz and his family came to visit Granny.  Thankfully Granny rallied once she arrived in the Meadow Lake hospital, and she had some good days where she knew everyone and carried on good conversations.
Since Granny was in the palliative care room, the family could come and go at all times and in greater numbers. Kelton stayed with her during the day, nearly all of his first week back.  He was very good at persuading Granny to eat and helped make her comfortable.  One day he saw a lab technician arrive without a nurse in tow, to take a blood sample.  Kelton recommended to the tech that she get some help with the procedure.  The tech waved that idea aside, so Kelton washed his hands and helped to restrain Granny while the tech did her blood taking.  Kelton discovered just how feisty Granny, who had been nearly comatose a few days before, was!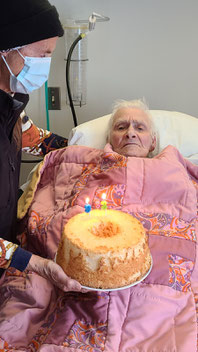 Granny celebrated her 93rd birthday in the hospital.  I made her a cake and Kelton and I sang her "Happy birthday."  Earlier on that day her great-grand kids and their Mom brought cupcakes to celebrate as well.  I think Granny did nibble a bit on the cupcakes and cake.
During the first 2 weeks of Granny's stay in our local hospital, she seemed to improve.  The Sask. Health Authority decided, with much prompting from Daryl, to declare that Granny was now a Long Term Acute Care patient who could stay in the Meadow Lake hospital until an acute care bed became available at our local senior's lodge. It was a great relief for Daryl to know that Granny would remain here, where we could all visit her much more regularly.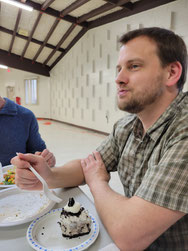 Kelton spent more of his time out on the ranch once Granny seemed to be more stable and the hospital nursing staff could tend to her needs.  He helped with several fall chores such as setting out bales in the paddocks, ensured that the generator was functioning and that we could plug in the furnace if there was a need, additionally he fixed some equipment and tools.  Generally, Kelton got to have a taste of ranch life after being away for several years, his assistance was much appreciated. 
All the time he was in Saskatchewan, Kelton was still actively working for the University.  During Covid lockdowns his team of researchers became very versed in using the internet to continue their work.  His coworkers were very proficient at connecting with Kelton even though he was over 3000 kilometers away.  I found it interesting to see two different computers working on the same file at the same time.  
I had a medical appointment near the end of November in Saskatoon, so Kelton drove down with me and then flew back to Toronto.  I understand that he was very cautious at the University because Covid seems to be on the rise.  The professor he works with insists that all staff wear masks at meetings.  Even I tested positive for Covid, when I had a PCR test during my medical appointment!  Perhaps that "cold" I had earlier, was really Covid.  At the time of the "cold", I did a RAT to ensure that I was not spreading anything to others.  However, I have since learned that a RAT is less sensitive to the new Omicron variant than the PCR.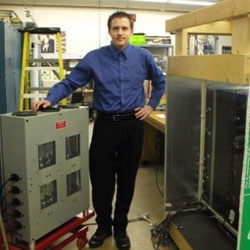 Kelton has been preparing "the perfect story to impress VP level staff and potential investors.  We keep having to change it for different audiences."  I believe this presentation has to do with some sort of heat transfer solutions that his team has been working on and they are now looking for investment dollars.  Kelton continues to champion making small adjustments to existing infrastructure thus encouraging companies and utilities to make enviro and economic saving decisions at a lower cost.  Kelton puts it this way, "harvesting existing thermal energy to decarbonize heating."  Good for the environment and economics.
Since the beginning of December Granny's health steadily declined. She was unable to eat or drink after Dec 9 and slowly withered away.  Vawn visited a week later; we wondered if Granny was waiting until all her grandchildren had come to see her in the hospital.  Granny joined the angles on Dec 17 and a huge weight was lifted from my heart.  Granny was at last pain free and without suffering.  Her son, Daryl, said that Granny spent the last week teaching us all patience and the knowledge that there are things we cannot change and require serene acceptance.
A Celebration of Granny's life will be held in the new year.  I will post details when they become available.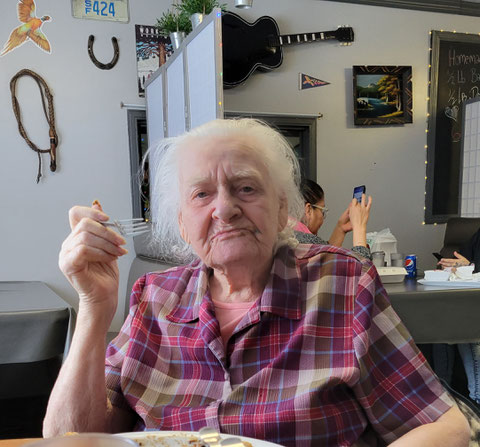 Last December Brownie and I took Granny out for lunch.  That was the last time she was out at a restaurant with us.
The highly mobile McLeans
Early in 2022, my daughter told me that Chris had been asked to consider a new parish back in Saskatchewan.  After much deliberation and prayer, Chris decided to accept this new location.  Pastor McLean continued to serve the congregation in Dawson Creek until the end of May.  Prior to that the whole McLean family visited the Northeast Saskatchewan area to which they would be moving, in order to find a new residence and a new school for the girls.
At the beginning of June, the McLean convoy on it's way from Dawson Creek B.C. to Nipawin Sask. rolled into the Winning Ways yard.  Actually, it was only 2 trucks, one, a huge U-haul pulling a car hauler and their own pick-up towing the boat.  Every available space was filled with gear along with 5 people, 5 cats, 2 dogs, 2 rabbits, and a gecko.  The mini mares, who had been with the McLeans over the winter, had come back to the ranch in May along with the McLean horse trailer filled with tack and other equipment.
The girls started classes at École Notre-Dame-des-Vertus school in Zenon Park, Saskatchewan. "It serves Francophone families from the communities of Zenon Park, Tisdale, Carrot River, Arborfield, Nipawin and Melfort that seek quality Francophone education for their children at elementary and high school levels." Elissa is fortunate to have several classmates her age, Caslyn on the other hand has very few peers in the high school.  Both girls plan to be fluent French speakers when they complete their schooling.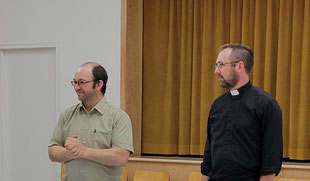 Chris' North East Sask. Lutheran parish consists of 4 churches located in Nipawin, Melfort, Hudson Bay and Mistatim.  Chris alternately conducts services in two of the churches each Sunday, while the other two churches have services led by worship teams. Of course, with folks spread over a large geographical area, Chris puts lots of miles on his car.  However, he still finds time to follow his favourite pastimes, hunting and fishing.  He's certainly located in a good area for those (well almost as good as our Meadow Lake area).  Chris did come up to our area and caught some fish, later he tried finding an unsuspecting moose down by Nesset Lake and at the North Ranch , but to no avail.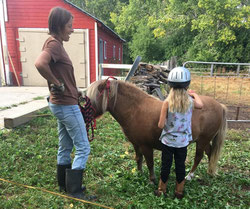 This fall Vawn was employed by a local accountant in Nipawin, to assist with tax preparation.  Although Vawn has worked in several bookkeeping roles, taxes and their regulations were new to her.  Vawn works 3 days a week so that she has time for her girls and the chores around their acreage.  She has 3 horses, a pair of mini mules, a mini gelding as well as her daughter's two 4-H heifers for livestock. Keeping on top of fencing, feeding and training these critters keeps her busy.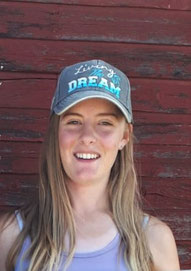 Caslyn is learning to drive!  She will turn 16 next year, and in Saskatchewan she will be eligible to take her driver's test after 9 months as a Class 7 learner driver.  Next spring, she will have practiced the required length of time and taken her High School driver's education.  She is very excited about this prospect now, we'll see if a winter's worth of driving dampens her enthusiasm. Caslyn takes advantage of every opportunity to represent her school as an ambassador or travel to school organized events.  She looks forward to attending the University of Saskatchewan, as her grandparents did.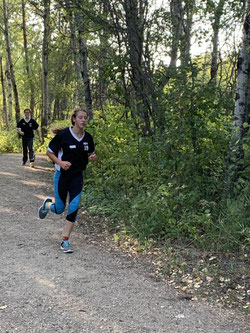 Elissa enjoys the great outdoors and is also an avid reader like the rest of the family.  She puts her long legs to great use when she rides and has become a very steady and sensitive rider.  She enjoys her "horse-pony" (Grandma Kelly's spotted pony) and likes to chase cows and trail ride.  However, this fall when her sister was not feeling well, Elissa volunteered to ride Caslyn's horse.  Elissa rode the horse a few bucking jumps but then was thrown violently and broke both her wrists. Vawn transported Elissa to the Children's Hospital in Saskatoon, where over the course of two visits, the orthopedic surgeons set both wrists and pinned the left one.  Can you imagine life for a teenage girl with both arms in casts?  Vawn was dismayed to find she had a "baby" again!  Fortunately, youngsters heal quickly and in six weeks the casts were removed.  Elissa was able to resume her outdoor life once more. 
At the end of June, Howard Brown and I travelled to Nipawin for Chris' installation in his new parish.  On our way there we stopped and visited my mother-in-law, Grandma Evangeline at the Spiritwood Nursing Home where she was a resident for over a year. She was in good form; we could even hear her voice as we walked up the path to the door.  She knew us both with our masks on, and later we were able to take her out into the sunshine and around the grounds.  
We continued on our way and joined the celebration at the Zion Lutheran Church in Nipawin.  The McLeans welcomed us into their new home, which the girls have dubbed "Mosquito Mansion" since the insect population was excessive this past summer.  We got to meet the mini ponies that came with the property, as well as all the McLean cats. Chris' brother, Jason, lives with them and does the chores when the McLeans are not at home. Speaking of chores, "Thank you volunteers for keeping the Winning Ways critters happy while I got to visit."  I was able to see the school and small community of Zenon Park the following day, as well as visit the memorial for those who died in the Humboldt bus crash.  Brownie and I returned to Winning Ways later that day.
The McLeans have settled into their busy life on their little acreage with all their 4 footed friends (yes even the gecko is 4 footed).  Between work/school, chores, piano/singing lessons and community involvement they are occupied all week.  Occasionally family members get to take a few days off and visit here in Meadow Lake, travel to different cities or go hunting in their local area. It was delightful to have Vawn, the girls and Chris visit Winning Ways in the past few months.
Marilyn's miraculous recovery
"Be realistic, plan for a miracle."    --Rajneesh
Last spring, at the end of March, Marilyn was hurrying into the Post Office to pick up her mail.  Somehow her shoe caught in the grating inside the first door, she reached ahead to the second door, but, being vertically challenged (not very tall) she did not achieve the goal of stopping her fall.  With her foot firmly caught by the first door and nothing to stop her downward movement she snapped her femur!! Marilyn was immediately assisted by the Post Office staff and she had one of her helpers with her when she was transported to the Meadow Lake hospital.  The medical folks at our local hospital shipped her off to Saskatoon in an ambulance, to get the fracture repaired.
I believe Marilyn spent 3 days in the hospital in Saskatoon before the operating theatre and Orthopedic surgeon were available to plate her broken bone.  She says she doesn't recall a great deal of that time, so I suspect that she was sedated to keep her still and reduce the pain.  Marilyn did get the care of one of the top surgeons in Saskatchewan and once patched up, was quickly sent back home.
My friend Janet was going to be in Saskatoon while Marilyn was in the hospital down there.  Fortunately, Marilyn was already recuperating when Janet arrived WITH A WATERMELON. Anyone who knows Marilyn, knows she LOVES watermelon.  I had arranged for Janet to pick up one of those little sweet watermelons and take it up to Marilyn.  I figured that since it's mostly water it would not be hard on her stomach and it would definitely cheer her.  The happy smile and the rapidly vanishing watermelon tell the story.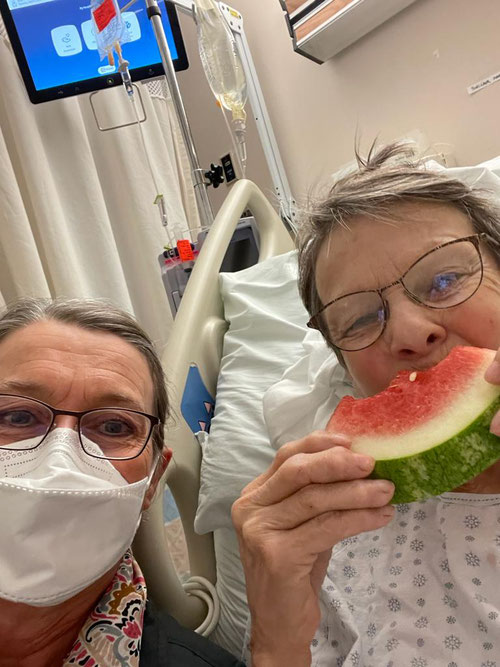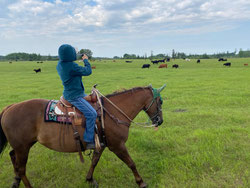 Marilyn was able to get around her home with a cane and outside she used a walker.  I think she was very careful at first, but then she got braver; although Marilyn had little in the way of physiotherapy, she was back in the saddle by the time summer rolled around.  She said she could trust Windy to carry her safely and she knew what the old mare could do.
Marilyn enjoyed many trail rides and checking the cows over the summer.  Not only that but Marilyn helped with painting, training a young horse, fixing fence, moving wood, moving a steer, everything she's always done!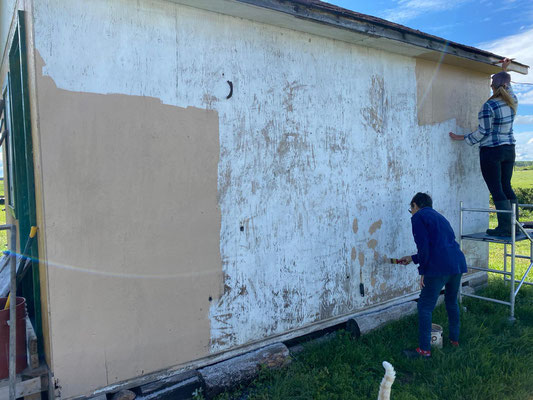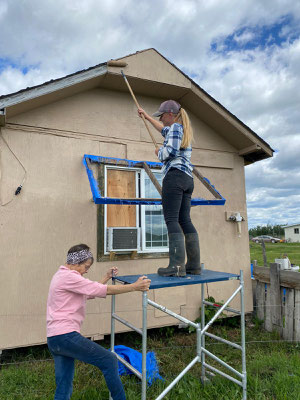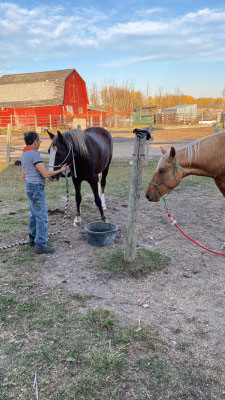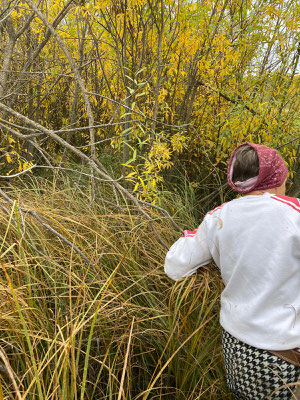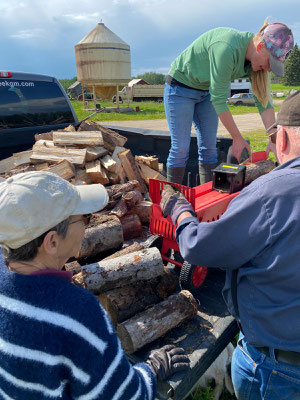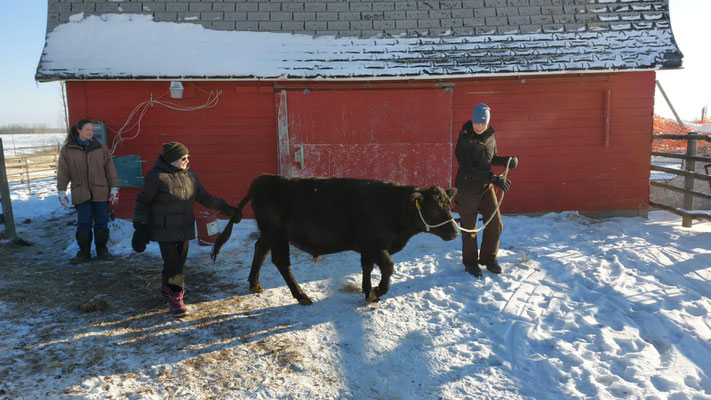 Fast forward to November, Marilyn offered to help my crew and I with pregnancy checking the cows.  She said that her girls, Bruce and she would give us a hand.  Bruce helps with the headgate, the girls helped to bring in the herd and sort them, then applied Solmectin, moved the cattle into the chute or placed poles behind the cows in the alley.  I told Marilyn that she was to direct the girls how to move the cows forward into the chute. 
Seconds later I looked around, and who is in the pen telling old bossy that she was headed in the wrong direction, and will she "PLEASE TURN AROUND"!?!  Yeah, I heard that last part, and that's what alerted me to Marilyn's position.  I suggested that the young ones should do the work IN the pen and that Marilyn should remain on the outside.  Apparently after moving about a third of the cows through the holding pen into the chute, Marilyn decided she had demonstrated enough stockmanship to the girls and turned the job over to them.  No harm done, thankfully, my cows and Marilyn's have fairly good manners and are not likely to run anyone over.
Black Friday, the day after the Preg Checking, Marilyn went to Lloydminster to send a helper off to her next host.  While Marilyn was in the city, she thought she could do a little shopping.  I believe she chose to go to Walmart, just for a few things.  I got a phone call from her shortly after her harrowing experience of Walmart's Black Friday shoppers.  Marilyn told me that she would much rather work the cows in the pen, sending them up to the chute, than face the horde of Walmart shoppers she had just encountered.  The cows were much more predictable!!
Marilyn believed that she would be properly restored to her former mobility, and through careful exercise and patience, she was.  I think that's downright miraculous!  SO plan, intend, expect things to be miraculous and then keep moving in that direction.  
75 cows OR 5 ewes?
This 'winter' we moved the ewes back beside the barn in the middle of March. Whether I had a premonition, or it was the angels made me do it, it was a good thing!!  The Ides of March (March 15) we went to Meadow Lake to do some shopping and visited George and Marlene.  Upon our return the crew discovered that Pepper had TRIPLETS!! Two very cold little lambs were running around and the third was looking not too good on the ground. 
We gathered them up, took them into the barn, tried to get them to suck but they were too chilled.  We brought them into the bathtub and warmed them up a bit.  Then I got Pepper, walked her up the ramp and into the porch (can't do that with a cow, however, I did do it with a pony--see below!!) Nellie, the smaller female, sucked, but the two males did not.  Off I went to the neighbours, to get some colostrum, mixed it up, and bottle fed the two males. The lambs stayed in the bathtub so they could thoroughly dry off and warm up.  Pepper went back to the barn.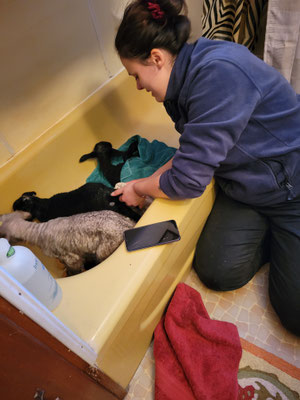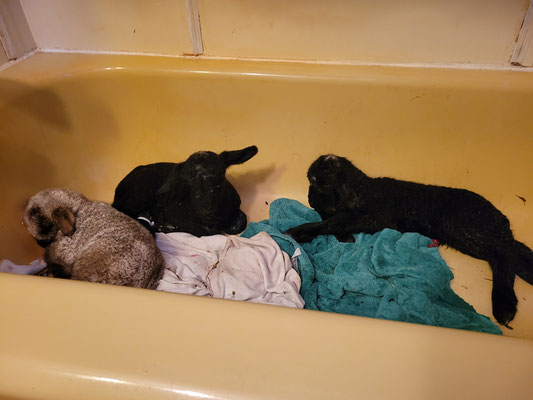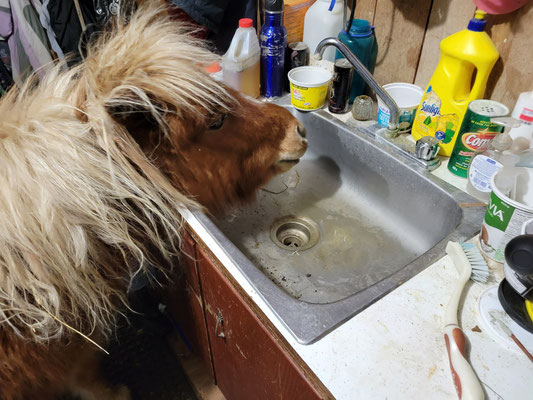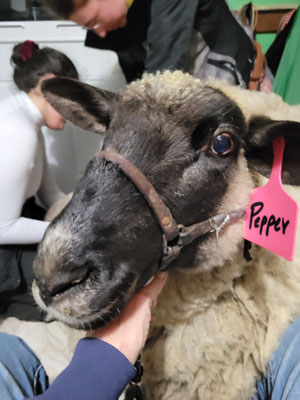 (In January MR BIG became entangled in the wrap around a large round bale.  We cut him out of the wrap, and he managed to stagger to his feet.  Putting him in the barn did not seem to warm him up so …. I brought him into the porch.  At 3:30 the next morning, he was very happy to return to the barn, get a drink and have some hay.)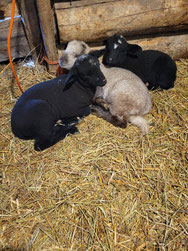 5 AM the next morning, I bottle fed all the lambs, who were now hungry.  Once the crew was ready, we took lambs and milk replacer to the barn.  The girls managed to get Carmel, the biggest ram lamb, and Nellie to suck the ewe, and I bottle fed Galen.  By nightfall even Galen had learned to suck the ewe.  Just before bed, we offered them all the opportunity to drink from the bottle, but they were less enthusiastic.  By noon the following day none of the triplets were interested in the bottle.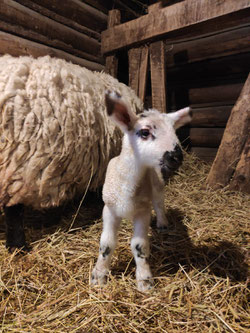 Since one of the ewes, who was not supposed to be lambing in March, did, I checked the other two.  Oh yes, Whitney was bagging up too.  A week after the triplets were born, Whitney had Amelia.  No difficulties, just a sleepy big lamb, but definitely getting all the milk she needed.  Then we waited for over a month for the next lambs to arrive at the end of April.  
One of the lambs from the first set of twins born in April, only survived about a week.  The next two sets of twins were born on the same day.  One ewe would only accept the larger ram lamb, so the little ewe lamb fostered herself to the other ewe, Easter, who was willing to take her.  However, Easter was not the healthiest and ended up with listeriosis.  There were three lambs who had diarrhea and had to be treated with sulfa drugs.  Plus the ewe, who had to have several injections.  Thank goodness I have a good relationship with my veterinarians and can discuss the symptoms I see, and get their advice.  So out of 5 ewes, 10 lambs were born and 9 survived!!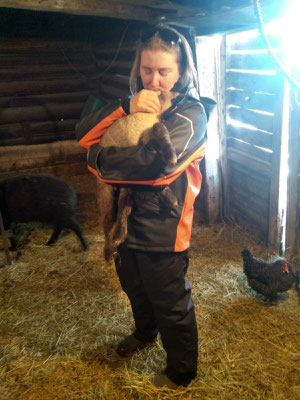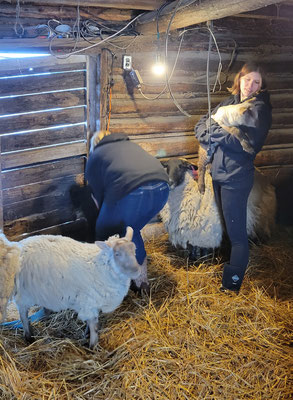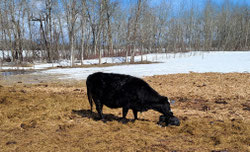 It wasn't only the sheep who got in a hurry to produce babies!  A week before Easter, which was meant to be the first day to calve, we noticed that a cow had already calved!! That cow, #94, took care of her calf and would have sent us, as well as any predators, elsewhere very rapidly.  You might say she's over-protective! No problem, except we never did get close enough to tag that baby!
The first-calf heifers started calving on Easter Sunday and only one of them had trouble and lost her baby.  The older cows did their job and I only saw a couple of calves being born this spring.  Perhaps I wasn't out in the herd as much, or there just wasn't difficulty.  There were 75 cows who calved and 74 of them brought home a calf this year.  I didn't treat any of those 74 calves nor any of the cows.  Hmmm?  I think it was easier to raise calves than lambs!
2022 New Year
It's January 1, 2022, New Year's Day!  You won't hear me give you the traditional greeting for this day because I want to wish you something from my heart.  Several years ago, I suggested, in my Annual Update posted on this Winning Ways website, that my readers follow the advice of Roger Miller.  Roger Miller was a very creative singer/songwriter when I was a child.  I remember and know many of his songs but the one I am thinking about, is "You Can't Roller Skate With a Buffalo Herd".  Look it up on Goggle if you haven't heard it!
Roger Miller was known for putting wise advice in many of his songs.  The suggestion I'm recommending you take to heart is:
You can't drive around with a tiger in your car
But you can be happy if you've a mind to
All you gotta do is put your mind to it
Knuckle down, buckle down, do it, do it, do it
The world of 2021 was challenging, uncertain and very confusing for most of the world's human population.  However, I am recommending that we dwell on the moments we can be proud of in the past 12 months.  Moments when YOU did something, accomplished something, said something, or avoided doing/saying something; big or small moments that YOU feel pleased or satisfied with in your life. Make a list of 10 or 12 such moments and then notice how you feel.  That feeling is what you want to produce more of in 2022, proud moments are to be celebrated.
Enjoy the simple things in life, usually they are all around you and frequently all you need to pay is attention. Enjoy the blue of the sky, when it's covered with clouds, look for the sun to peek through and cheer you. Enjoy a physical feeling in your body, whether it's the sting of cold water in the shower, the taste of hot coffee slipping down your throat, the smell of a great meal, or the sound of your favourite artist's voice.  Happiness in the moment comes from these simple things. 
Practice gratitude for all the moments, big and small, that you are happy, even for only a few minutes.  Funny thing about this gratitude practice is that it trains our minds to look for more happy moments.  Our minds notice what  we choose to find important and then bring to our attention more and more of that which important to us.  In this case moments of happiness.  So, using your gratitude practice to train your mind to find happy moments, you can be happy if you've a mind to!
Here's my wish for all my friends for 2022.  May you choose daily to notice the happy moments of your life, celebrate the proud moments and train yourself to have the happiest 12 months of 2022 that you can enjoy!  You can be happy if you've a mind to.