About
Kelly Friedrich - Rancher, Riding Instructor, Coach and Host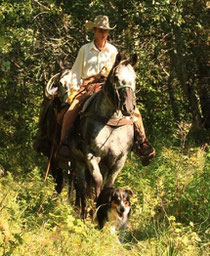 Kelly Friedrich has her Equine Canada certification as an English Instructor and a Western Coach. She is also an Equi-Health Canada Equine First Aid Instructor, is certified as an Equine Assisted Personal Development Coach and Equine Assisted Learning Facilitator.
Kelly has gained much of her expertise over the past 40 years by working with many different ages of students including Kindergarten cowgirls, who are just starting their love-affair with horses, to grandmothers, who may be coming back to their first love in life, the horse. She spent 6 years working with college students in SIAST's Equine Studies program, as well as 30+ years as a 4-H Light Horse Leader (Youth Leadership Organization).
Over the past 10 years Kelly has been a host and mentor for young people from around the world who were interested in seeing ranch life in north-western Saskatchewan.  She continues to upgrade her theory and skills by regularly attending clinics and workshops.  In all of her work human and horse safety are stressed at all times! 
Brownie - handyman for everything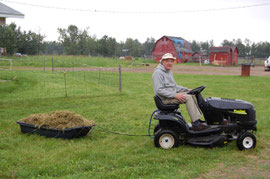 Howard Brown aka Brownie is a retired friend who lives in his own house on the ranch. He mows the lawn, shovels snow in the winter and fixes everything that is made out of wood. He always gives us advice when we want to build something and he has the right tools and equipment to do so. He knows history of Canada, the Friedrich family and his own of course, and he loves to share his stories. He loves everything involved with chocolate and he takes pride in his name Brownie.
Nancy - ranchhand on the weekend
Nancy came as a helper in January 2009 and stayed on the ranch for 3.5 years. At the same time she was working in Lloydminster to earn money for her living. She went back to Germany for one year until she got her permanent residence status and now she can stay and live in Canada like every Canadian. She works in Meadow Lake as a truck driver for a hardware store and on her days off, she helps on the ranch with cows, horses, fences and all the other things.